Marie Gardiner
Si vas a celebrar un concierto o un evento musical, querrás que todo el mundo lo sepa. ¿Quieres saber cómo hacer un vídeo promocional para conseguirlo? Utilizar una plantilla After Effects de vídeo promocional es la forma perfecta de producir un vídeo de alta calidad, con el que conseguirás que tu público muera por estar en la lista de invitados.
Las mejores plantillas After Effects de vídeos promocionales para eventos musicales
¿No sabes muy bien cómo promocionar un evento musical? Aquí tienes 9 de nuestras plantillas After Effects favoritas de vídeos promocionales para eventos de música de Envato Elements, un sitio donde puedes descargar y utilizar tantas plantillas como desees por una única suscripción mensual. ¡También son ideales para promocionar tus transmisiones en vivo!
Esta plantilla After Effects musical es totalmente multipropósito, por lo que es ideal para todo tipo de géneros y vídeos de festivales. Solo tienes que añadir fotos, imágenes y texto para completar esta plantilla After Effects de vídeo promocional para promover eventos musicales.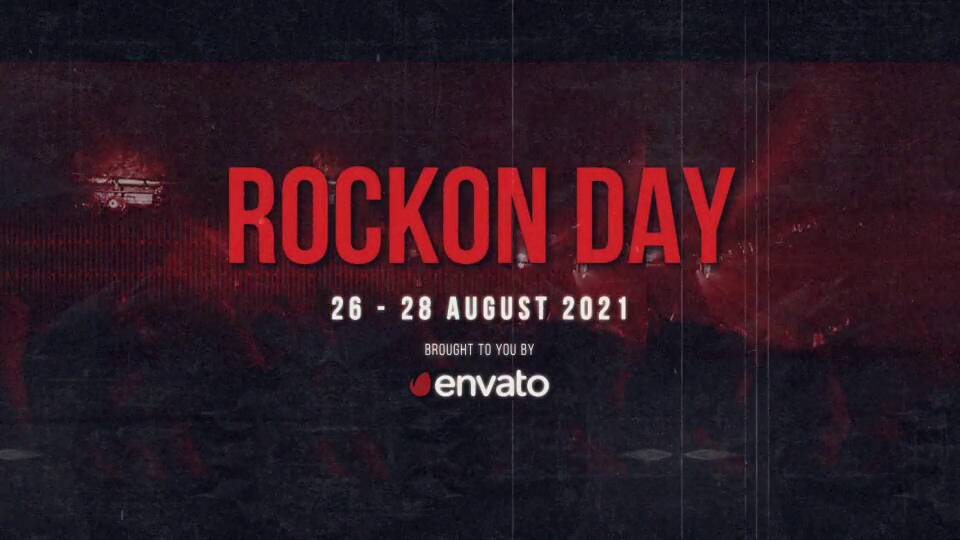 ¿Quieres saber cómo hacer un vídeo promocional para un evento de hip hop? Esta plantilla After Effects de vídeo promocional para promover eventos musicales de hip hop tiene un estilo dinámico. Cuenta con geniales efectos de papel que podrás personalizar rápidamente, además de un total control de color y una resolución 4K.
Esta plantilla fue creada para simular pantallas más pequeñas, como las que podemos ver en algunos eventos, que reproducen fragmentos de una imagen más grande. Es de ritmo rápido y se adaptaría bien para promover eventos musicales de clubes.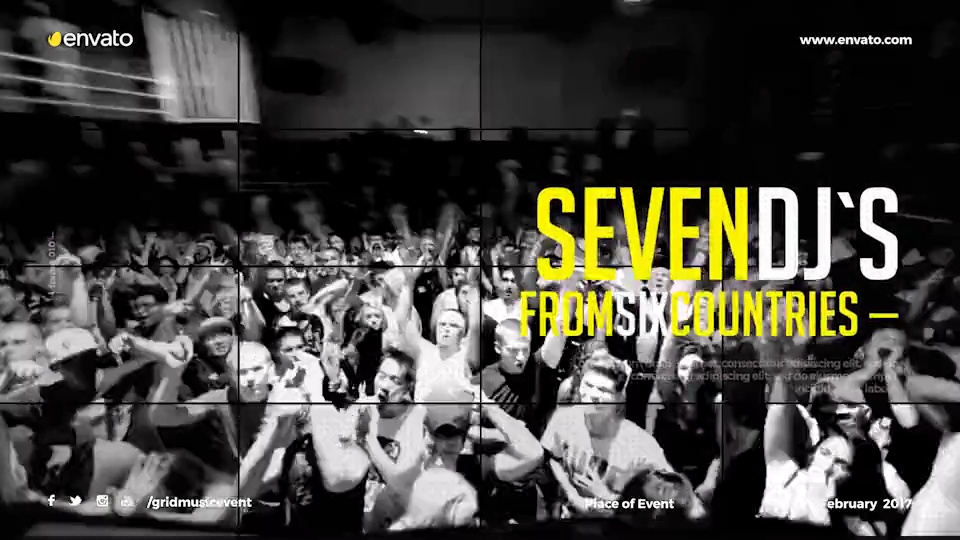 Esta plantilla, de colores vivos y llena de buenas vibras, es ideal para promover eventos musicales. La descarga incluye una intro, una cortinilla, transiciones y tercios inferiores, con los que podrás hacer un vídeo promocional para promover eventos este verano.
Con una duración de 1:28, la plantilla Festival de música retro es una prolongada intro o anuncio de exhibición, lo que te brinda abundantes posibilidades de transmitir tu mensaje para promocionar un evento de este tipo de música.
Una plantilla sencilla que utiliza un efecto de paralaje, Vídeo promocional para eventos de música puede adaptarse a una serie de vídeos de festivales musicales.
Una opción un poco diferente, la plantilla After Effects Intro para bandas de jazz tiene un estilo fresco en blanco y negro, con siluetas de una banda de jazz tocando alrededor del contenido de tu elección. Verdaderamente genial.
Nada transmite mejor el espíritu de la música electrónica como la frenética vivacidad de esta plantilla After Effects. Aprovecha toda la energía de las pistas de baile en el vídeo promocional de tu evento, y consigue hacer un vídeo promocional para que todos se mueran por ser invitados.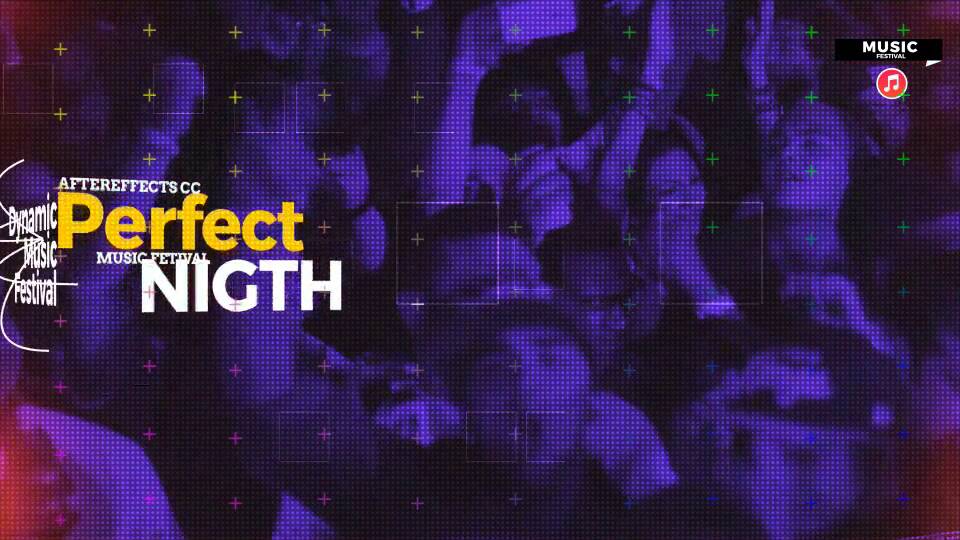 Con múltiples colores y efectos de transición, Moderno vídeo promocional para eventos musicales es sencillo y elegante. Comparte la programación de un espectáculo completo manteniendo el interés del público.
Plantillas After Effects gratis de vídeos promocionales gratis para eventos musicales de Mixkit
Las plantillas After Effects premium de vídeos promocionales de música que hemos visto anteriormente son de muy alta calidad, pero hay veces en las que las plantillas gratuitas son más adecuadas para tu presupuesto. ¿Quieres descubrir cómo promocionar un evento con un vídeo promocional, pero todavía no quieres comprometerte con una plantilla After Effects premium atractiva?, échale un vistazo a estas 3 plantillas de Mixkit.
Esta plantilla After Effects para promover eventos musicales le dará un toque oscuro a tus metrajes. Afortunadamente, también viene con un toque de color con bonitos tercios inferiores y encabezados inclinados.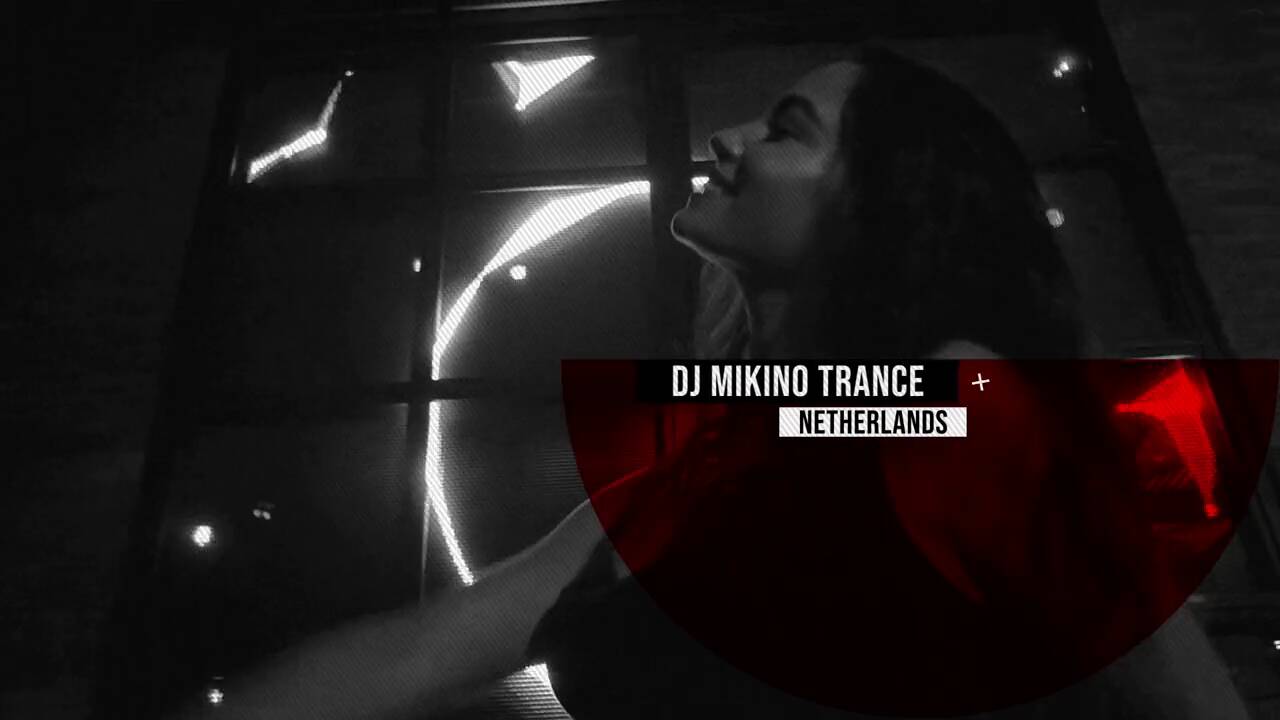 Tablero de vídeos promocionales para eventos atrae a los espectadores con su texto en negrita y de movimientos rápidos. Los efectos de transición de este vídeo para festivales te permiten incluir abundante contenido de vídeo en poco tiempo.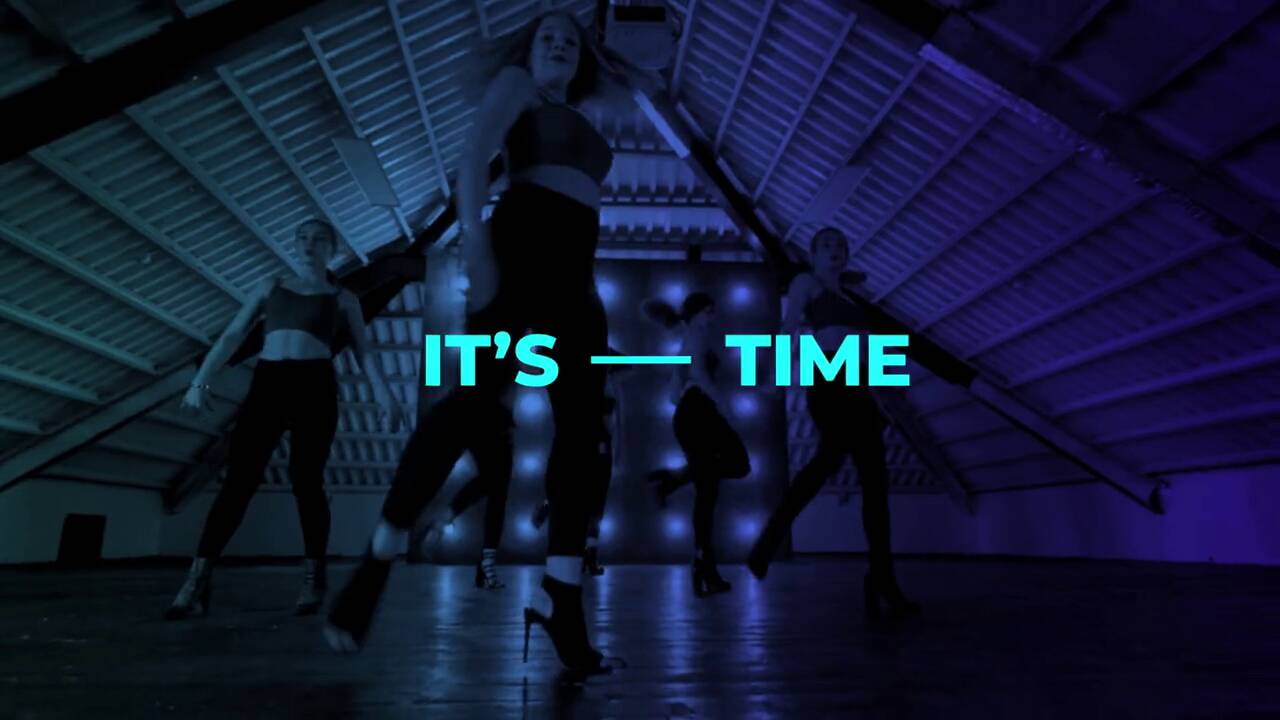 Intro de invitación para fiestas cuenta con una tipografía y transiciones llamativas. Se puede modificar fácilmente para adaptarla según los diferentes artistas de tu próximo evento.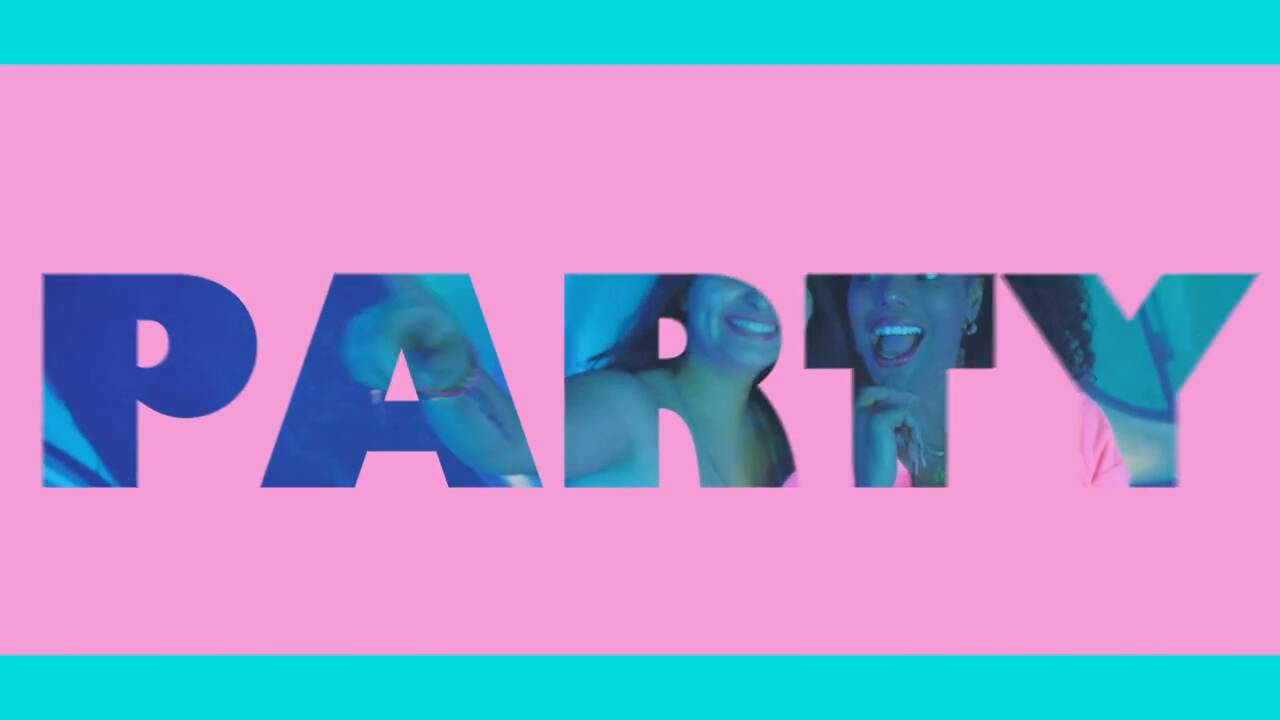 Cómo transmitir y grabar vídeos de eventos musicales en vivo
No necesitas ser un profesional para transmitir vídeos de festivales musicales línea; ¡incluso los espectáculos de sótano más rústicos pueden transmitirse en vídeos en vivo! Si estás empezando con los vídeos de festivales en vivo, tenemos 12 consejos esenciales para ayudarte a empezar a retransmitir vídeos en vivo y divertirte haciéndolo.
Transmite vídeos con Open Broadcaster (de forma gratuita)
Open Broadcaster Studio (OBS) es un programa de streaming o transmisión gratuito y de código abierto ampliamente utilizado. Funciona en todas las plataformas operativas. Aquí tenemos 2 tutoriales que te enseñarán cómo hacer un vídeo promocional para que empieces a transmitir tus eventos con OBS:
Cómo crear un video en vivo gratuitamente con Open Broadcaster Software (OBS) Studio

Marie Gardiner

28 Jul 2020
Existen muchas formas de mejorar y optimizar tu transmisión de vídeo con OBS.
Cómo crear una transmisión en vivo con cámaras múltiples
Una de las mejores maneras de mejorar la calidad de tu transmisión es utilizar dos o más cámaras. Ya sea dentro de OBS o utilizando las herramientas de transmisión gratuitas de OBS.Ninja, te será sencillo crear y combinar múltiples transmisiones de vídeo en una sola transmisión en vivo.
Cómo optimizar tus vídeos para transmitirlos en vivo
Sacar el máximo provecho de OBS no es demasiado difícil, pero requiere de algunos ajustes menores. A continuación, te ofrecemos algunos tutoriales sobre cómo configurar OBS y optimizar tus vídeos para tus transmisiones en directo.
Añade gráficos a tu transmisión de vídeo en vivo
Los gráficos pueden aportar información importante y son una herramienta clave para darle más estilo a tu transmisión.
Cómo Agregar Gráficos y Overlays para Stream en Vivo con Open Broadcaster (OBS)

Marie Gardiner

08 Sep 2020
Más recursos para creadores de vídeos
Si necesitas producir vídeos promocionales con regularidad, o trabajas en el ámbito del vídeo marketing, querrás consultar estos recursos exclusivos de Envato.
Potencia tu vídeo marketing con la guía de Envato
Potencia tus habilidades de vídeo marketing con nuestra guía completa. Aprenderás sobre vídeo marketing de principio a fin, de modo que, ya seas un principiante o un profesional, puedas adquirir algunas habilidades útiles que te permitan mejorar tu próximo vídeo.
Produce un vídeo con gráficos animados en línea con Placeit
Placeit es un generador de vídeos en línea que utiliza plantillas con gráficos animados diseñados por profesionales.
Envato Elements: descargas ilimitadas
Más artículos que te ayudarán a crear excelentes películas promocionales para eventos
¿Quieres crear unos vídeos promocionales increíbles para tus próximos eventos? ¡Entonces échale un vistazo a los siguientes recursos!
Want a weekly email summary?
Subscribe below and we'll send you a weekly email summary of all new Photo & Video tutorials. Never miss out on learning about the next big thing.
Sign up
Photographer and writer based in north east England.
Marie Gardiner is a writer and photographer from the North East of England. After gaining her degree in Film and Media, Marie worked in the media industry, before leaving to set up the business she runs with her partner: Lonely Tower Film & Media. As well as writing about visual practices like photography and video, Marie is also the author of Sunderland Industrial Giant (The History Press, 2017), Secret Sunderland (Amberley Publishing 2019), and Celebrating Sunderland (Amberley Publishing 2023). Her photographic work focuses on landscapes and industrial ruins, particularly those of the North Pennines as she continues to work on her long-form documentary project Changing Landscapes.
Looking for something to help kick start your next project?
Envato Market
has a range of items for sale to help get you started.