André Bluteau
Ya sea que estés planeando promocionar tu propia marca, crear contenido para un cliente o sólo crear historias de Instagram por diversión, las plantillas pueden ayudarte a ahorrar tiempo, a la vez que mantienen tus elementos visuales con una apariencia magnífica. En este tutorial, aprenderás cómo usar Envato Elements y las plantillas gratuitas de Premiere Pro de Mixkit para producir sencillos y atractivos videos de Instagram.
Plantilla de video para crear historias de Instagram fácil y rápidamente
Plantillas profesionales de Envato Elements: descargas ilimitadas
Todo lo gratis es genial, pero a veces podrías necesitar una plantilla más avanzada. Échale un vistazo a las plantillas premium de Envato Elements, un sitio donde puedes acceder a todos los recursos con una sola suscripción. Elements te ofrece todo lo que necesitas para producir videos, como por ejemplo miles de plantillas y millones de artículos de stock como fotos, música, videoclips, fuentes y cursos creativos de Envato Tuts+. A continuación, te presento los más destacados:
Historias de Instagram elegantes te ofrece cinco plantillas de historias en formato vertical (1080x1920) con un diseño sencillo y moderno. Cada una tiene marcadores de posición de texto fáciles de usar en los que puedes incluir tus elementos multimedia. Sólo añade tu contenido y estarás listo para subir tu video al instante.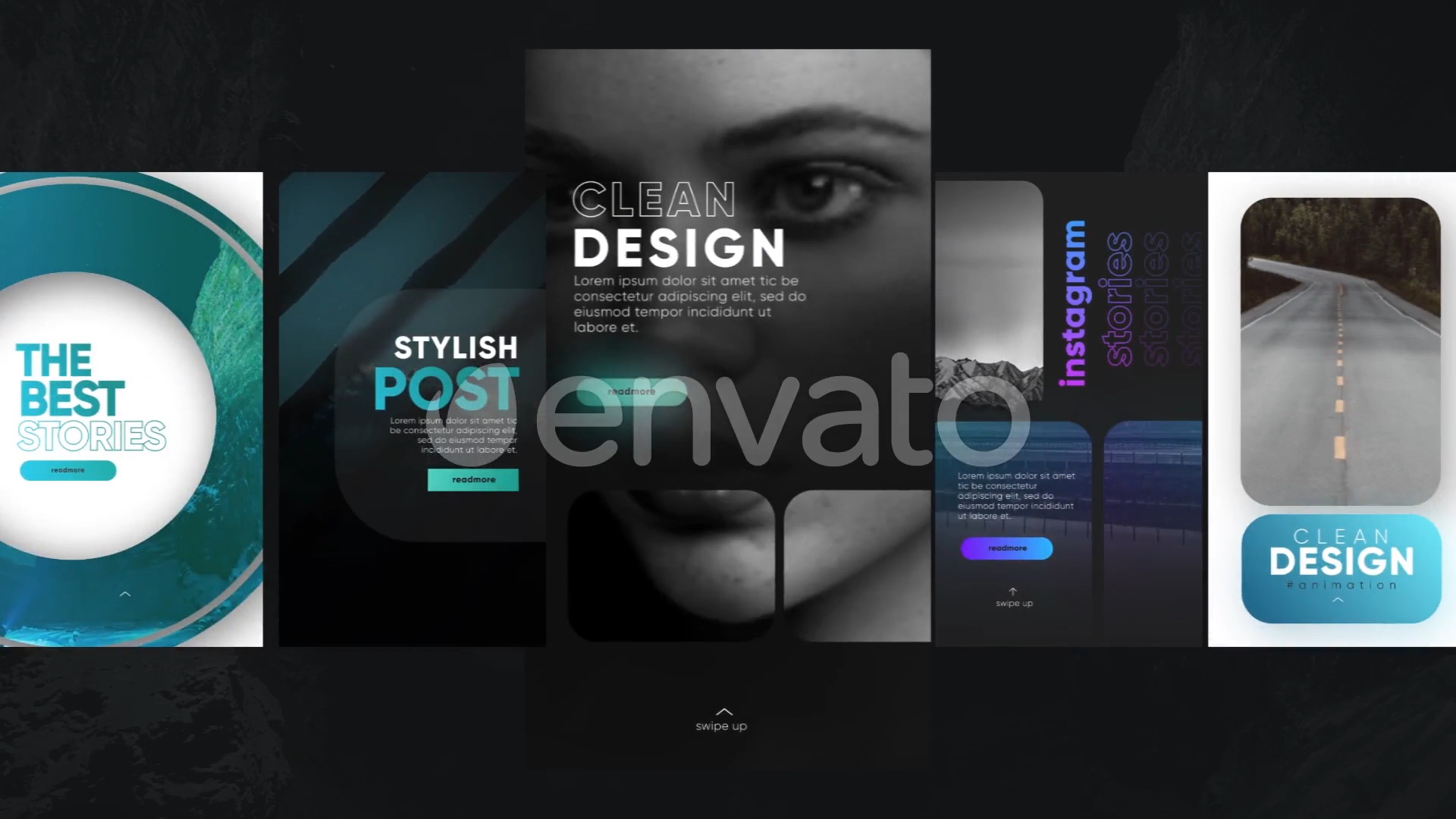 Plantillas gratuitas de Mixkit
Mixkit es un excelente recurso de plantillas gratuitas sencillas y fáciles de usar. Más adelante entraremos en detalle sobre cómo descargar, acceder y crear tu propia historia usando Historia de Instagram sencilla, un fondo de video personal con una opción de "swipe up", un encabezado y un subencabezado.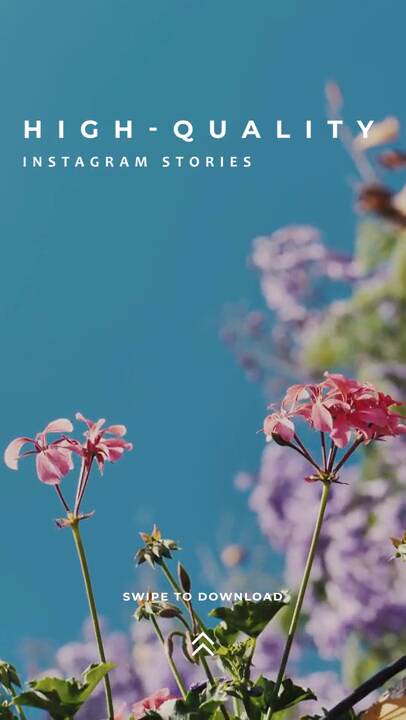 Antes de comenzar
Las plantillas son grandiosas como punto de partida, pero aún así debes asegurarte de experimentar y modificar algunos parámetros para que se adapten a tu proyecto. Así podrás crear algo nuevo que sea totalmente novedoso y emocionante. Comienza con plantillas que no requieran de ningún plugin. Descubrirás que poco a poco comenzarás a dominarlas.
En este tutorial encontrarás muchas plantillas descargables. Si bien es divertido arriesgarte y tratar de descubrir las cosas por tu cuenta, en última instancia, estos tutoriales te ahorrarán tiempo. Si estás usando una gran variedad de plantillas en diferentes proyectos, recuerda ser organizado y guardarlas en carpetas importantes y correctamente etiquetadas.
Antes de comenzar con tu proyecto, prueba experimentar con la plantilla. Realiza un proyecto de prueba, sin presiones, para aprender todos los detalles de este recurso, antes de que comiences a producir tu proyecto final.
Sé consistente. Tu estilo es tu tarjeta de presentación; tu público debe poder reconocer un trabajo como tuyo, siempre. El uso de plantillas puede ser de gran ayuda en este sentido. Sé conciso, y aprovecha al máximo el poco tiempo que tienes. Mantén tus historias claras y directas para conseguir una mayor efectividad.
Necesitarás:
Adobe Premiere Pro CC 2020 instalado
Un proyecto de al menos una secuencia
Tu archivo favorito en formato .mogrt descargado de Mixkit. En mi caso, voy a usar Historia de Instagram sencilla
1.
Añade archivos de plantillas en formato .mogrt a Premiere Pro
La plantilla en formato .mogrt contiene una sola animación exportada de Adobe After Effects, la cual se puede editar en Premiere Pro. Para una edición más fluida y fácil, abre el archivo de plantilla en formato .mogrt en Premiere Pro usando el panel de gráficos esenciales.
Cómo importar gráficos animados en formato .mogrt
Abre tu proyecto en Premiere Pro, luego haz clic en la opción Gráficos en la barra de menú de la parte superior.
Busca el panel de Gráficos esenciales a la derecha de la pantalla. En caso de que aún no esté abierto, ve a Ventana > Gráficos Esenciales. En la esquina inferior izquierda del panel, haz clic en el pequeño ícono de plantillas (un cuadrado con un signo de suma) para Instalar plantilla con gráficos animados. Busca donde se encuentra tu archivo en formato .mogrt y selecciónalo. Luego, haz clic en Abrir.
2.
Edita la plantilla
Muy bien, es tiempo de añadir tu contenido a tu secuencia.
Si estás usando un metraje con la dimensión 1920x1080 (formato horizontal), entonces necesitarás ajustarlo a 1080x1920 (formato vertical) con las opciones Secuencia > Ajustes de secuencia > Video > Tamaño de cuadro. Si ese ajuste está desactivado, simplemente cambia el Modo de edición a Personalizado (también se encuentra en los ajustes de la secuencia). Selecciona tu clip o clips y añádelos a la línea de tiempo.
Encuentra tu plantilla y añádela encima de tu metraje, ajústala a tu gusto. A continuación se muestra una captura de pantalla de mi espacio de trabajo, donde se indican todos los parámetros que se pueden ajustar. Lo que se puede editar varía según la plantilla, pero en este caso tenemos el color de la tinta, los colores de la forma, el texto y las posiciones. Por supuesto, tus archivos multimedia son tu más grande personalización, pero también puedes usar un video de stock de Elements.
3.
Exporta tu video terminado
Eso es todo. Ahora puedes exportar tu video. Si estás inseguro sobre este paso, este tutorial tiene todo lo que necesitas saber para obtener los mejores resultados.
¡Muchas gracias por haberme acompañado! Las plantillas de Mixkit están diseñadas para ser rápidas y fáciles de usar, además que requieren de una personalización mínima. Aquí está nuestro proyecto terminado: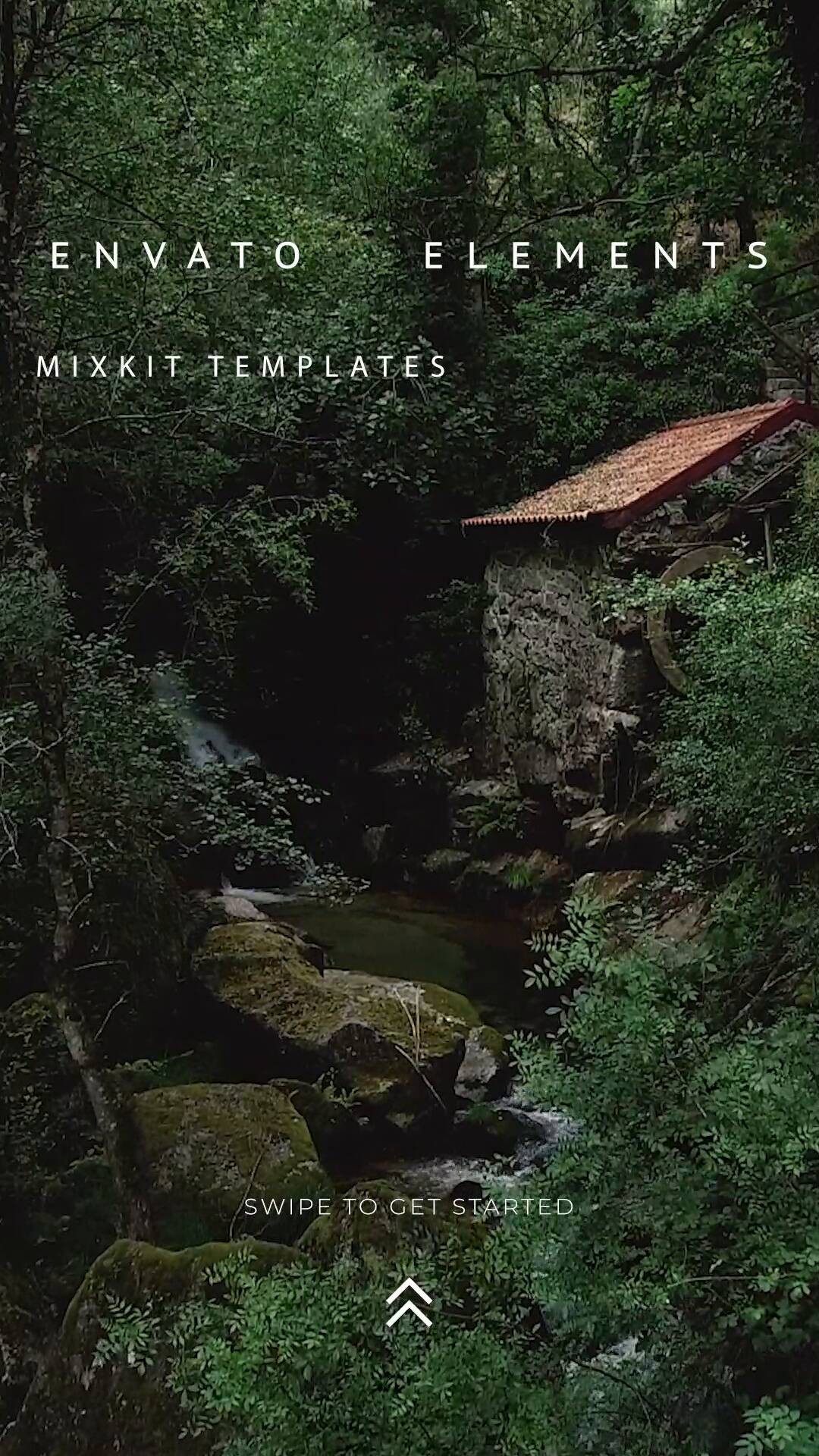 Más recursos de video de Envato
Guía de video marketing de Envato
Potencia tus habilidades de video marketing con nuestra guía. Aprenderás sobre video marketing de principio a fin de manera que puedas mejorar tu próxima producción y conectar tus clientes.
Recursos gratuitos de video de Mixkit
Visita Mixkit para conseguir videos de stock gratuitos, música de stock gratuita, y plantillas gratuitas para Adobe Premiere Pro.
Crea videos con gráficos animados online usando Placelt
Placelt es un creador de videos online que usa plantillas de gráficos animados diseñadas profesionalmente; puedes producir tus videos rápidamente, directamente desde tu navegador.
Visita Envato Market para encontrar más opciones
Si necesitas aún más ideas inspiradoras, visita Envato Market, un lugar donde encontrarás plantillas de After Effects que puedes pagar de forma inmediata.
Tutoriales para aprender más sobre Premiere Pro
Want a weekly email summary?
Subscribe below and we'll send you a weekly email summary of all new Photo tutorials. Never miss out on learning about the next big thing.
Sign up
Ottawa, Canada
Andre Bluteau is a writer and producer based out of Canada. He specialises in Adobe Creative Cloud, Final Cut Pro X, and Logic.
Looking for something to help kick start your next project?
Envato Market
has a range of items for sale to help get you started.