Jonathan Lam
Sponsored Content
This sponsored post features a product relevant to our readers while meeting our editorial guidelines for being objective and educational.
En este tutorial, aprenderás a utilizar Cartoon Animator y After Effects para crear un personaje animado que hable. Los avatares parlantes ayudan a atraer a la audiencia en presentaciones de video, livestreams y más, ayudándote a transmitir la importancia de tu mensaje.
Con Cartoon Animator, puedes crear tu propio personaje o utilizar los que vienen por defecto en diferentes estilos, como figuras de cómic, animales y pinturas.
Aprende a animar un personaje parlante
En nuestro último tutorial de Cartoon Animator, presentamos los fundamentos de la animación de personajes en 2D, incluyendo el rigging y los huesos. Este tutorial cubre cómo aplicar esas habilidades básicas para hacer un avatar que habla.
A continuación, aprenderá a crear un personaje parlante utilizando sus propios diseños, paquetes de elementos de Envato Elements o una animación de stock modificada. Cubriremos cómo importar elementos personalizados del personaje como ojos, nariz y boca, etc., cómo animar un avatar parlante personalizado, cómo añadir sus propias líneas de voz y cómo mejorar la animación con Adobe After Effects añadiendo un fondo.
En nuestros próximos tutoriales, aprenderás a añadir y perfeccionar tu personaje 2D con animaciones suaves de giro de cabeza, además de cómo puedes animar cualquier fotografía utilizando estas mismas técnicas.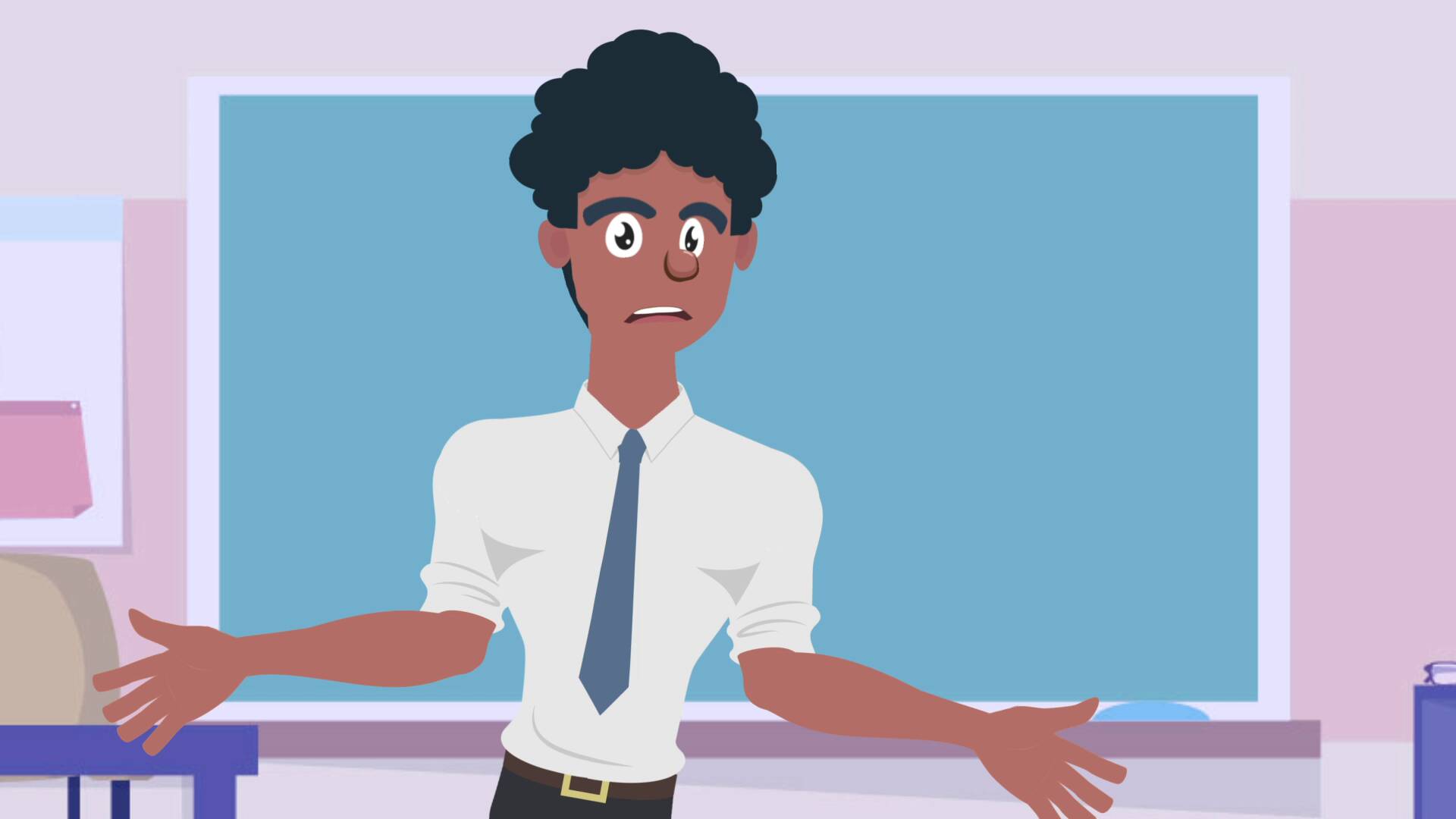 Lo que necesitarás
Para seguir este tutorial necesitarás tu propia versión de Adobe After Effects y Cartoon Animator. Puede descargar una versión de prueba gratuita de Cartoon Animator en el sitio web de Reallusion.
Cartoon Animator incluye los gráficos y elementos que necesitas para seguir este tutorial, pero también estamos utilizando los siguientes paquetes gráficos opcionales de Envato Elements, donde puedes descargar activos creativos ilimitados con la suscripción mensual. Haga clic en los siguientes enlaces para descargar los mismos elementos que hemos utilizado aquí:
1. Añadir un bone
Antes de empezar a crear nuestro propio avatar parlante, echemos un vistazo al Administrador de Contenidos dentro de Cartoon Animator. Puedes acceder al Gestor de Contenidos yendo a Ventana > Gestor de Contenidos o pulsando F4 en el teclado.
Una vez que tenga acceso al Administrador de Contenidos, seleccione la pestaña Actor y luego seleccione Plantilla de Actor.
Añadir un bone
Para crear una cabeza de personaje personalizada necesitamos empezar con un Bone. Puede encontrarlo yendo a Actor Template > Character > G3 > 5_G3 Free Bone > Base Bones. Seleccione}a el Base Bones y haga clic y arrástrelo a la ventana del escenario.
Puedes ampliar el bone haciendo clic y arrastrando el ratón, si es necesario.
2. Importar una cabeza de plantilla
Para crear tus propios elementos de cabeza personalizados, ahora necesitamos entrar en el Modo Compositor. Haga clic en el botón cerca de la parte superior izquierda de la ventana de vista previa del escenario en Cartoon Animator para entrar en el Modo Compositor.
Dentro del Modo Compositor vaya al Gestor de Contenidos y elija una de las cabezas de plantilla a utilizar seleccionando la pestaña del encabezado.
Selecciona una plantilla de encabezado inicial
Para este tutorial utilizaremos la plantilla de cabeza Roger_F. Dentro del encabezado de la pestaña seleccione el encabezado de la plantilla > Encabezado> _G3 360 > Roger_F para seleccionar el encabezado de la plantilla. 
Haga clic y arrastre el encabezado de la plantilla al bone, que está dentro de la ventana de vista previa del escenario.
Utiliza el mouse para ampliar la cabeza haciendo clic y arrastrando si es necesario.
3. Importar un encabezado personalizado
Ahora tienes un encabezado básico que puedes usar para hacer una animación, pero probablemente quieras personalizar el aspecto de tu personaje más allá de la plantilla. Puedes hacer mucho de esto directamente en Cartoon Animator usando los elementos suministrados o puedes añadir tus propios elementos personalizados, que es lo que haremos ahora.
Si no tienes un encabezado personalizado, ¡no te preocupes! Sigue el encabezado suministrado y, en su lugar, intenta hacer algunos cambios o cambiar algunos de los elementos de stock por otros para crear tu propia combinación.
Echemos un vistazo a los elementos del encabezado entrando en el Gestor de Capas, que se encuentra cerca de la parte inferior derecha de la pantalla o yendo a Window > Gestor de Capas (F6).
Ahora podemos eliminar el bone porque ya no lo necesitamos: seleccione la capa del bone y luego haga clic en el botón Eliminar.
Entrar en el editor de sprite
Ahora selecciona tu personaje parlante y luego haz clic en el botón del Editor de Sprite en la barra de herramientas de la izquierda.
Esto abrirá el Editor de Sprite donde podemos empezar a reemplazar elementos individuales de la Plantilla del Personaje Parlante. Comencemos con la Cara haciendo clic en la opción Cara en la parte superior.
Para reemplazar el elemento Face_F con su propia imagen personalizada, simplemente seleccione el elemento que desea reemplazar y haga clic en el botón Reemplazar Sprite Actual.
Selcciona tu nueva cara
En el explorador de archivos, localice la imagen que desea utilizar para su rostro y haga clic en el botón Abrir.
Cambia el tamaño y la posición de la imagen si es necesario.
Repite
Repite este proceso para el resto de sus activos, trabajando hacia abajo en la lista empezando por la ceja izquierda, ceja derecha, ojo izquierdo, ojo derecho, nariz, boca, etc. hasta que haya utilizado todas sus imágenes personalizadas.
Algunos elementos como la boca y los ojos pueden tener varios activos que se pueden importar (por ejemplo, Sonrisaabierta, Labiofruncido, Labioabierto, Mostrardientes, Bocaabierta, Normal, etc.)
Una vez que haya importado todos los activos que desee utilizar, vuelva al Gestor de Capas y oculte todas las capas que no desee mostrar haciendo clic en el icono del ojo.
Guardar
Una vez que esté satisfecho con el aspecto de la nueva cara, guárdela en el Gestor de contenidos yendo a la pestaña Personalizar en la parte superior y seleccionando Personalizar Cabeza > Encabezado y haciendo clic en el botón Añadir.
4. Colocar la cabeza personalizada
Haga clic en el botón Nuevo proyecto para crear un nuevo proyecto en blanco.
Para esta parte del proyecto, utilizaremos una de las plantillas de personajes ya hechas de Cartoon Animator. En el Gestor de Contenidos ve a Plantilla de Actor > Personaje > _G3 360 > 1_G3 360 Humano y elige uno de los personajes de aquí. Para este ejemplo vamos a usar a Phillipp_F pero siéntete libre de elegir otro que te guste.
Cambie el tamaño del personaje para que la mitad superior del torso aparezca en el visor (aquí se muestra como una línea de borde azul).
Busca la cabeza personalizada que has creado en el Gestor de Contenidos: debe estar en la misma ubicación en la que la has guardado. Haz clic y arrastra la cabeza personalizada a la plantilla del personaje en la ventana de vista previa del escenario.
Editar el nuevo personaje
Para cambiar los colores o editar ciertas partes de la plantilla del personaje para adaptarla a su cara, vuelve al Modo Compositor. Desde allí vaya al Gestor de Capas y seleccione las partes de su personaje que desea editar. Una vez que haya seleccionado el elemento (por ejemplo la capa LFoream_Layer) haga clic en el lanzamiento al editor de imágenes externo para editar la capa.
También puedes ocultar las capas que no quieras que se muestren (de forma similar a como ocultamos las capas para la plantilla de la cara).
Una vez que hayas terminado de hacer todas las ediciones al personaje, vuelve al modo Back Stage haciendo clic en el botón de la parte superior derecha.
5. Añadir animaciones al nuevo personaje
Para añadir una animación ya hecha al personaje, sólo tienes que ir al gestor de contenidos y seleccionar la pestaña Animación para navegar por la biblioteca de diferentes animaciones que puedes utilizar. Cartoon Animator proporciona muchos preajustes útiles en la biblioteca, incluyendo animaciones vocales, expresiones faciales y movimientos corporales, y puedes añadir los tuyos propios.
Para este ejemplo usaremos la animación Personaje que se encuentra en Plantilla de Animación > Movimiento > 1_G3 Humano > _Turners_Male > Frente > Personaje.
Usa el ratón para hacer clic y arrastrar la animación a tu personaje personalizado. Esto iniciará automáticamente la animación en tu personaje. Si no, puedes simplemente hacer clic en el botón de reproducción en la parte inferior de la pantalla.
6. Añade una voz a tu personaje
Una vez añadida la animación, puedes añadir una voz a tu personaje. Seleccione el personaje y luego haga clic en el botón Crear Guión.
A continuación, tienes cuatro opciones diferentes para decidir cómo hacer hablar a tu personaje.
Grabadora de Voz
Texto a voz (TTS)
Archivo de ondas
Guión de dibujos animados
Para este ejemplo utilizaremos un archivo de audio Wave (.wav) pregrabado. Cartoon Animator también incluye una grabadora de voz básica. El modo TTS utiliza el motor de texto a voz de Microsoft, o puedes utilizar el tuyo propio. Cartoon Script te permite utilizar guiones hablados.
Sincronización de labios con el audio grabado
Esto añadirá una voz a tu personaje. Cartoon Animator crea automáticamente la animación para sincronizar los labios con la voz.
7. Exportar a Adobe After Effects
Ahora que tenemos un personaje personalizado animado y con voz, es el momento de llevarlo todo a Adobe After Effects, donde podemos mejorar aún más la animación.
Simplemente haz clic en el botón de After Effects situado en la barra de herramientas superior o ve a Renderizar > Exportar a After Effects.
Instalar el script de After Effects
Haga clic en el botón Descargar Script para descargar el script que luego instalará en Adobe After Effects.
Para instalar el archivo en Adobe After Effects, descomprime el archivo Zip y luego pega el archivo Cartoon Animator - AE Script (Beta).jsx en la carpeta ScriptUI Panels. Por defecto, se encuentra en la siguiente ruta:
Windows: 

C:\Program Files\Adobe\Adobe After Effects \Support Files\Scripts\ScriptUI Panels
Mac: Applications/Adobe After Effects CC /Scripts/ScriptUI Panels
Si esta carpeta no existe, entonces crea una carpeta con el nombre Paneles ScriptUI.
Exporta tu personaje desde Cartoon Animator
De vuelta en Cartoon Animator asegúrate de mirar lo siguiente:
Tu personaje está seleccionado en Seleccionar objeto(s): es el personaje que has creado y animado en Cartoon Animator
Debajo, los ajustes de exportación permiten elegir la resolución y el tamaño de los fotogramas
Y, por último, puedes elegir el rango de exportación para determinar qué parte de tu línea de tiempo quieres exportar a Adobe After Effects
Una vez que haya comprobado todas las opciones, haga clic en el botón Exportar y elija el destino deseado para su nuevo archivo de Adobe After Effects. Esto creará un archivo JSON para su animación.
8.

Añade un fondo a tu animación de avatar parlante en After Effects

Para importar su animación en Adobe After Effects, vaya a Windows > Cartoon Animator - AE Script (Beta).jsx que abrirá un nuevo panel.
Haga clic en el botón Importar proyecto (JSON) y localice la ubicación del proyecto. Seleccione el archivo JSON exportado desde Cartoon Animator.
Añadir Nuevo fondo
Esto abrirá el avatar parlante en Adobe After Effects. Ahora podemos tratar esta animación como si fuera cualquier otro proyecto de After Effects. Por ejemplo, vamos a añadir un nuevo fondo en el proyecto.
Importa una nueva imagen de fondo en After Effects haciendo clic y arrastrando la imagen al panel de proyecto o yendo a Archivo > Importar > Archivo.
Abra la composición de la escena haciendo doble clic en ella, ya sea en el panel de proyectos o en la composición actualmente abierta.
Oculte el fondo actual haciendo clic en el icono del ojo junto a la capa de fondo.
Reemplazar la capa de fondo
Sustituya la capa de fondo por la nueva haciendo clic y arrastrándola a la composición desde el panel de proyectos.
Abra la nueva capa para acceder a las opciones de Transformación para que pueda editar las opciones de Escala y Posición si es necesario.
Cambia el tamaño y la posición del fondo hasta que estés contento con el resultado. Si estás familiarizado con el uso de Adobe After Effects puedes continuar editando la escena aún más. Por ejemplo, puede cambiar el color de la imagen de fondo, ajustar los niveles de audio o activar el desenfoque de movimiento.
¡Impresionante! ¡Has terminado!
¡Enhorabuena! Ahora puedes crear un personaje avatar parlante utilizando Cartoon Animator y Adobe After Effects.
Ahora que estás familiarizado con las técnicas, ¿por qué no experimentar con diferentes diseños de personajes o utilizar otros paquetes de personajes de Envato Elements? Una vez que hayas importado tu animación a After Effects, puedes consultar aún más tutoriales a continuación y aplicarlos al proyecto.
¡Mientras tanto, espero que hayas encontrado este tutorial útil y nos vemos la próxima vez, en Envato Tuts+!
¿Quieres aprender más? Vea aún más tutoriales de animación a continuación
Want a weekly email summary?
Subscribe below and we'll send you a weekly email summary of all new Photo & Video tutorials. Never miss out on learning about the next big thing.
Sign up
Digital Artist
Hi everyone! My name is Jonathan Lam and I'm a Digital Artist on a mission to empower, educate and inspire creative students just like you to gain the creative skills you desire! Currently I work for Ubisoft as a concept and game artist. My skills range from graphic design, illustration, animation, 3D modelling/sculpting, concept art and video editing. Some of the projects I've worked on include Hungry Shark World, Hungry Shark Evolution, Starbeard and the Kickstarter Funded Game called Eminence: Xander's Tales. I've also worked with many high profile clients including Riot Games, Sony Entertainment, Hasbro and Google as a graphic designer and illustrator.
Looking for something to help kick start your next project?
Envato Market
has a range of items for sale to help get you started.