David Bode
Banyak elemen meningkatkan produksi video dari sekadar ditonton hingga benar-benar mengesankan. Salah satunya adalah kontinuitas perasaan: tampilan dan nuansa konsisten yang mengikat gambar-gambar yang berbeda menjadi satu kesatuan yang kohesif.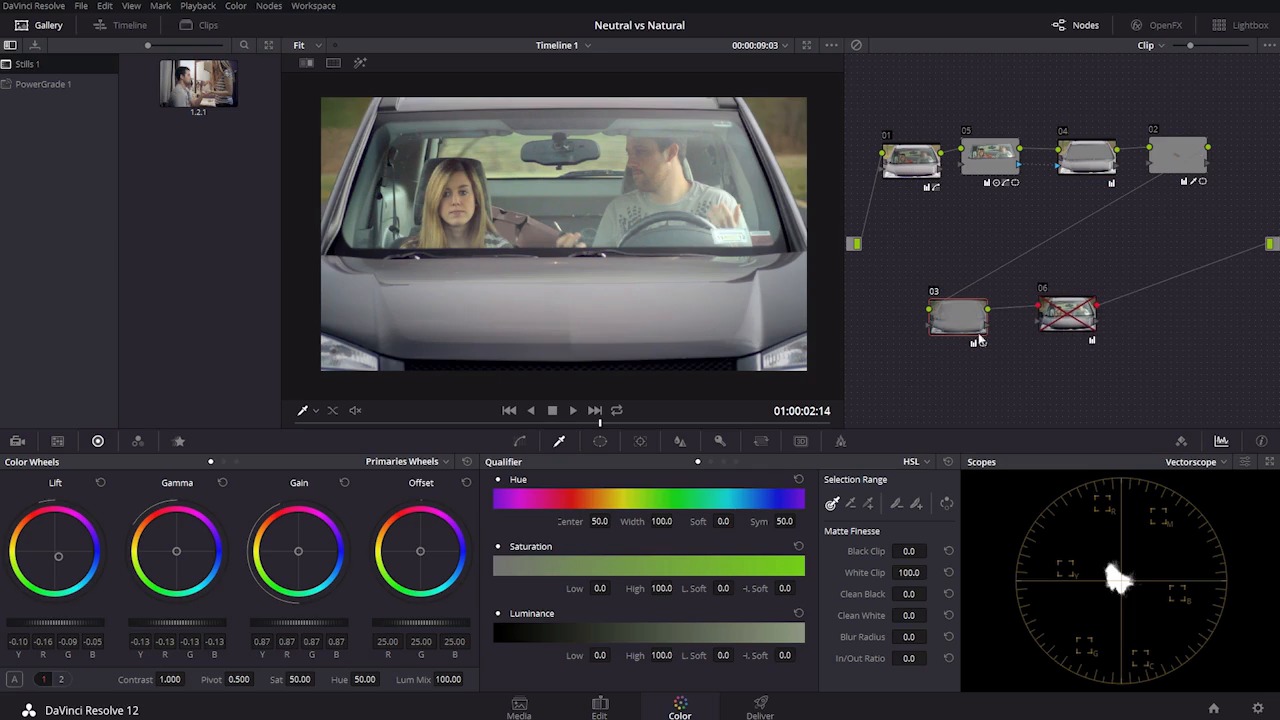 Dengan membuat beberapa penyesuaian sederhana selama proses penyuntingan, Anda dapat memberikan karya Anda perlakuan visual yang sama di balik produksi profesional terbaik. Produksi mungkin mencakup banyak pemotretan, yang masing-masing akan dipengaruhi oleh berbagai faktor — pengaturan, subjek, pencahayaan, dan komposisi, hingga hanya beberapa nama.
Setiap tembakan secara keseluruhan mungkin terlihat bagus. Tapi ketika diambil bersama-sama, mereka mungkin tampak lebih sebagai serangkaian klip daripada film yang benar-benar kohesif.
Salah satu kunci untuk membangun kekompakan adalah menggunakan nilai warna pada rekaman Anda. Grading warna adalah seni memodifikasi elemen warna individual seperti kehangatan, saturasi, dan kontras. Mengubah nilai warna ini membentuk nada yang serupa di antara setiap bidikan. Ketika Anda membangun nilai warna yang konsisten, Anda telah membentuk kesesuaian antara masing-masing dan setiap elemen produksi Anda.
Penyesuaian yang tak terhitung jumlahnya dapat dilakukan, dan itu akan bervariasi di antara setiap produksi. Namun, untuk contoh yang mendalam, video di atas melihat bagaimana memperkenalkan kesinambungan perasaan ke dalam proyek video. Anda akan melihat dengan tepat cara menerapkan alat dan teknik pengeditan video untuk secara ahli menggunakan penilaian warna dalam pekerjaan Anda sendiri.
Tonton Kursus Lengkap
Kursus ini dan banyak lainnya dimasukkan sebagai bagian dari langganan Envato Elements. Dengan berlangganan Unsur, Anda juga akan mendapatkan akses instan ke lebih dari setengah juta aset digital yang tersedia untuk Anda gunakan, mulai dari gambar hingga template video hingga kursus instruksional.
Terus Belajar Teknik Warna
Ada banyak hal untuk dipelajari tentang warna yang memberi penilaian Anda. Lihat tutorial lain di bawah ini untuk terus mempelajari lebih lanjut tentang proses penyesuaian warna:
Want a weekly email summary?
Subscribe below and we'll send you a weekly email summary of all new Video tutorials. Never miss out on learning about the next big thing.
Sign up
Upstate New York
Dave Bode is an expert on video and audio production in the upstate NY area. Working as a camera operator, editor, inventor, motion graphics designer, recording engineer, and studio musician, he truly is the Production Swiss Army Knife. Dave has created content for VH1 and Discovery Networks as well as inspirational videos that have been seen by millions. In early 2011, Dave started his own business (BODEMEDIA.TV) helping people create great looking videos.
Looking for something to help kick start your next project?
Envato Market
has a range of items for sale to help get you started.