Marie Gardiner
Animationsvorgaben, Farbvorgaben, Projektvorgaben: Alle Arten von Vorgaben sparen viel Zeit, und die Auswahl der richtigen Vorgaben für Ihr Projekt kann Ihnen helfen, beeindruckende, professionelle Ergebnisse zu erzielen. Hier finden Sie 15 unserer besten Adobe Premiere Pro Übergänge und Effekte, die Sie inspirieren werden.
Beachten Sie, dass dieser Artikel von den Mitarbeitern von Envato Tuts+ mit neuen und bemerkenswerten Voreinstellungen auf dem neuesten Stand gehalten wird.
Die 5 besten Premiere Pro-Voreinstellungen von Envato Elements
Wenn Sie täglich mit Premiere Pro arbeiten, ist unser abonnementbasierter Marktplatz eine fantastische Option für Sie. Hier finden Sie einige Beispiele für großartige Premiere Pro-Vorgaben von Envato Elements, bei denen alles in Ihrem monatlichen Abonnement enthalten ist.
Mit 1800 Premiere Pro Übergängen, 70 visuellen Stilen, 3500 Voreinstellungen, mehr als 50 verschiedenen Looks, 100 cineastischen LUTs und sogar einigen erstaunlichen Soundeffekten ist dieses Premiere Pro-Voreinstellungspaket eines der vollständigsten, die wir anbieten. Holen Sie es sich unbedingt, um Ihr Premiere Pro Showreel Template zu erstellen.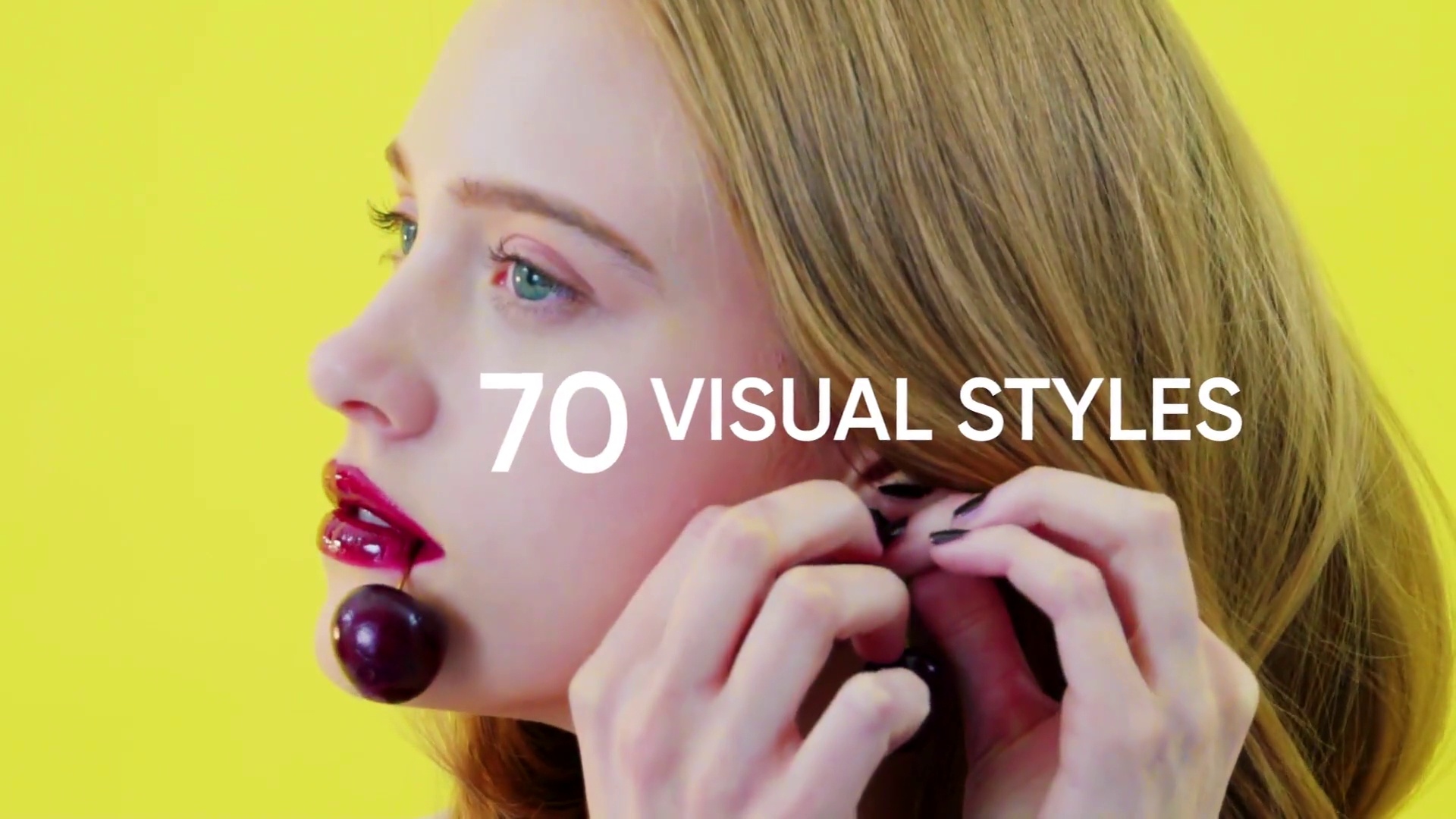 Mit Optionen, die von "sauberen" Farben, über von berühmten Filmen inspirierte Farben bis hin zu Drohnen reichen, bietet dieses Premiere Pro-Voreinstellungspaket eine Vielzahl von Möglichkeiten. Für den Fall, dass Sie Hilfe brauchen, ist ein Videotutorial enthalten.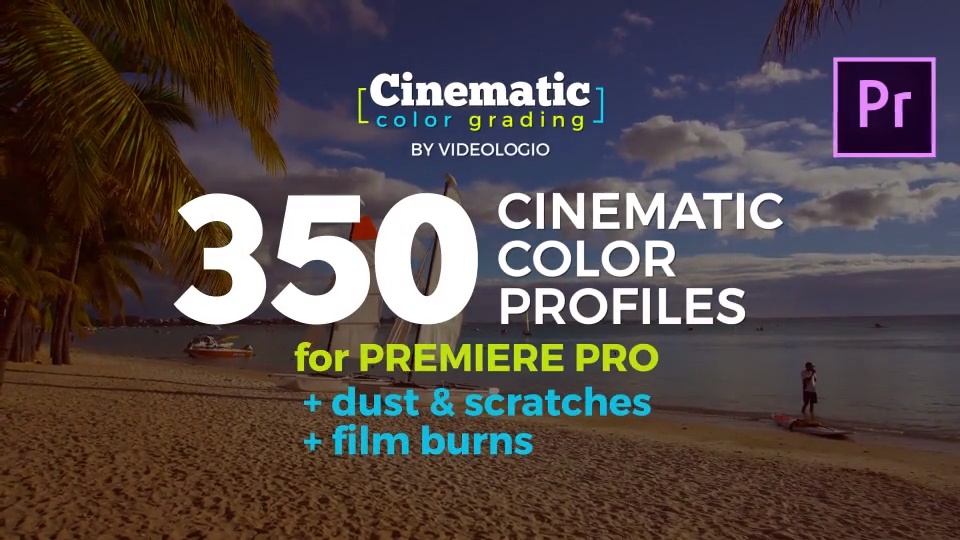 Wenn Sie ein Videoproduzent sind, der mit gesellschaftlichen Ereignissen, wie Hochzeiten arbeitet und der tolle Premiere Pro Showreel Template erstellen muss, ist dieses Voreinstellungspaket genau das Richtige für Sie. In Premiere Pro Video schneiden, schöne Momente hinzufügen und Ihre Projekte realisieren wird es Ihnen die Arbeit erleichtern, denn dieses Premiere Pro-Paket enthält 250 Farbkorrekturvorgaben für Hochzeiten, fünf alte Filmlooks, 10 VHS-Effekte und 30 Lichtlecküberlagerungen.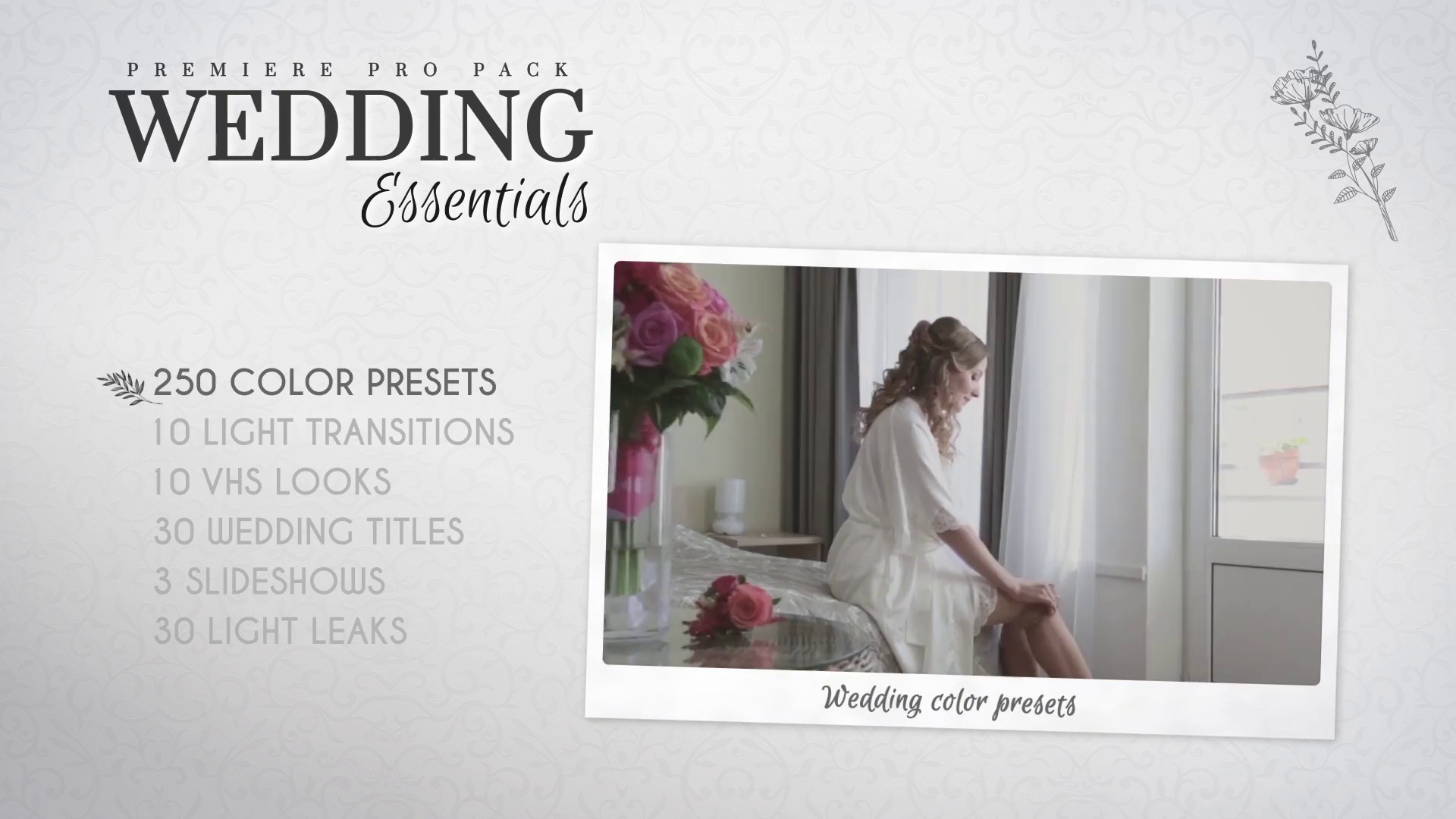 Mit den Cinematic Color Presets wird es Ihnen nicht langweilig, denn Sie können über 600 Optionen ausprobieren, darunter analoge Effekte wie Film und VHS.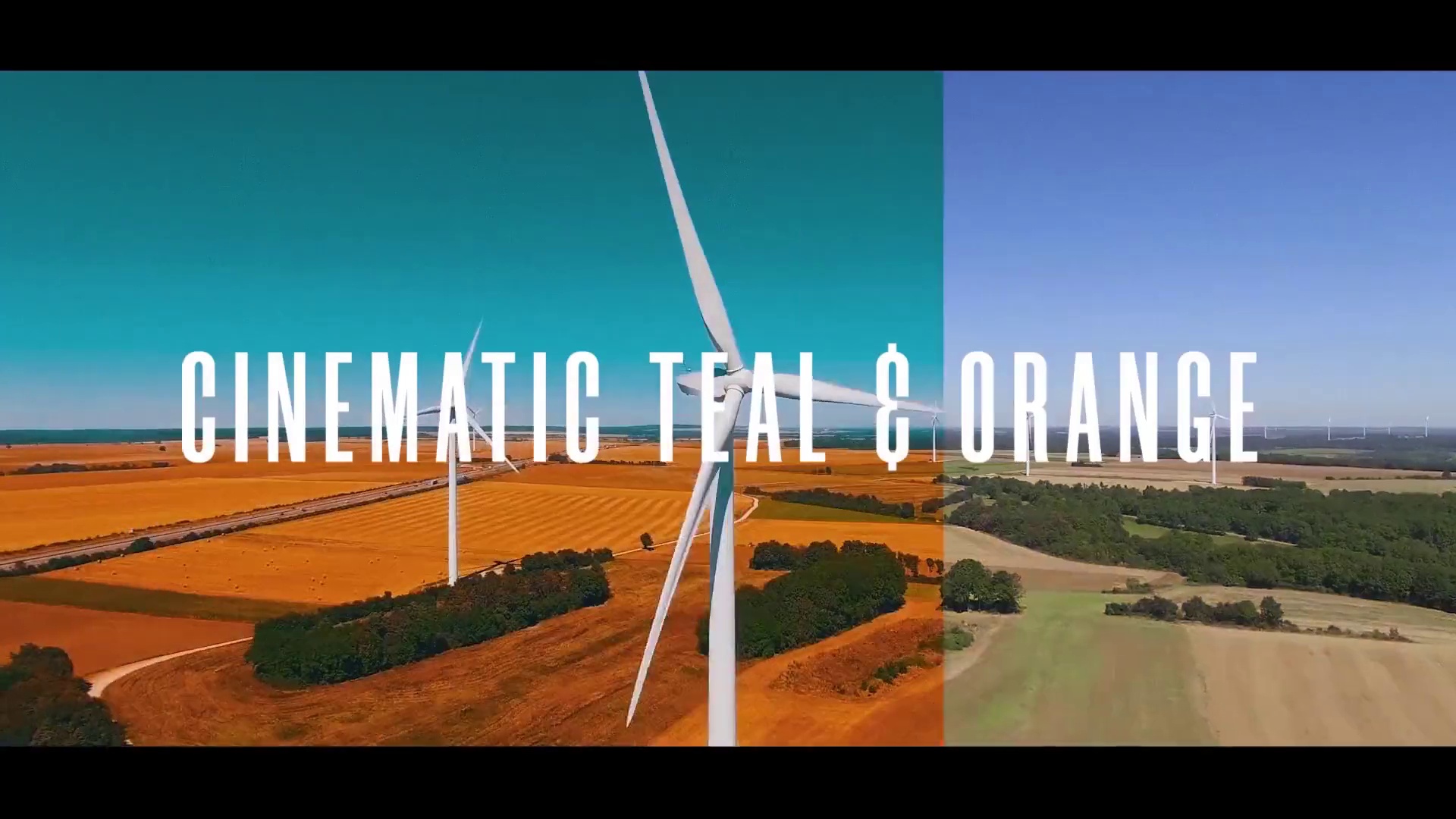 In Anlehnung an den Trend zu Glitch-Effekten, der in diesem Jahr in vielen Videos zu sehen ist, haben wir dieses Premiere Pro-Voreinstellungspaket mit 30 gebrauchsfertigen Glitch-Textvorgaben zusammengestellt. Sie können auch den mitgelieferten Glitch-Soundeffekt hinzufügen und die Farbe und Schriftart ganz einfach ändern.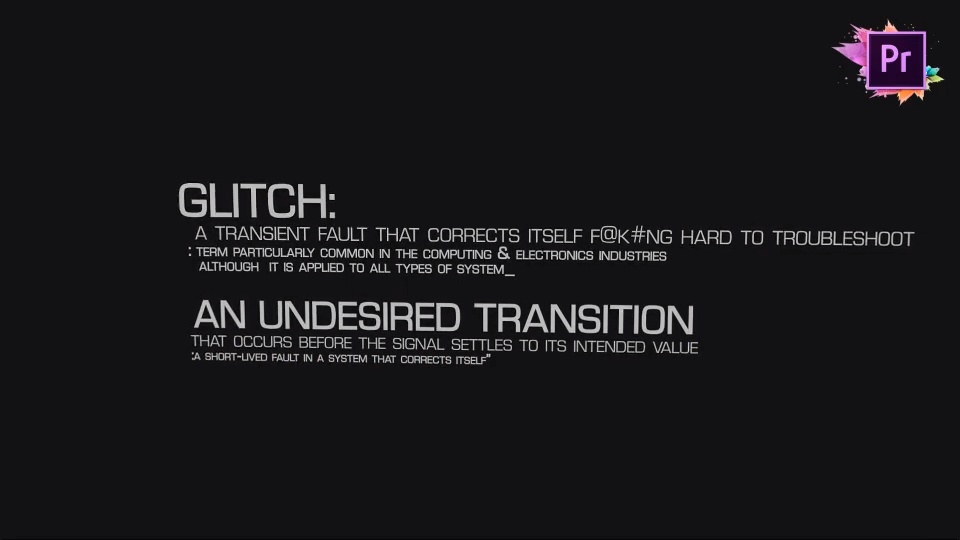 Die besten Premiere Pro-Voreinstellungen von Envato Market
Wenn Sie bei der Erstellung von Videovorlagen gerne nach Aufwand bezahlen, sollten Sie diese Auswahl an Premiere Pro-Voreinstellungen von Envato Market ausprobieren.
Kino-, Vintage-, Sepia- und viele andere Stile erwarten Sie in diesem umfassenden Voreinstellungspaket. Diese Premiere Pro Effekte sind in Kategorien sortiert, damit Sie genau den Look finden, den Sie brauchen.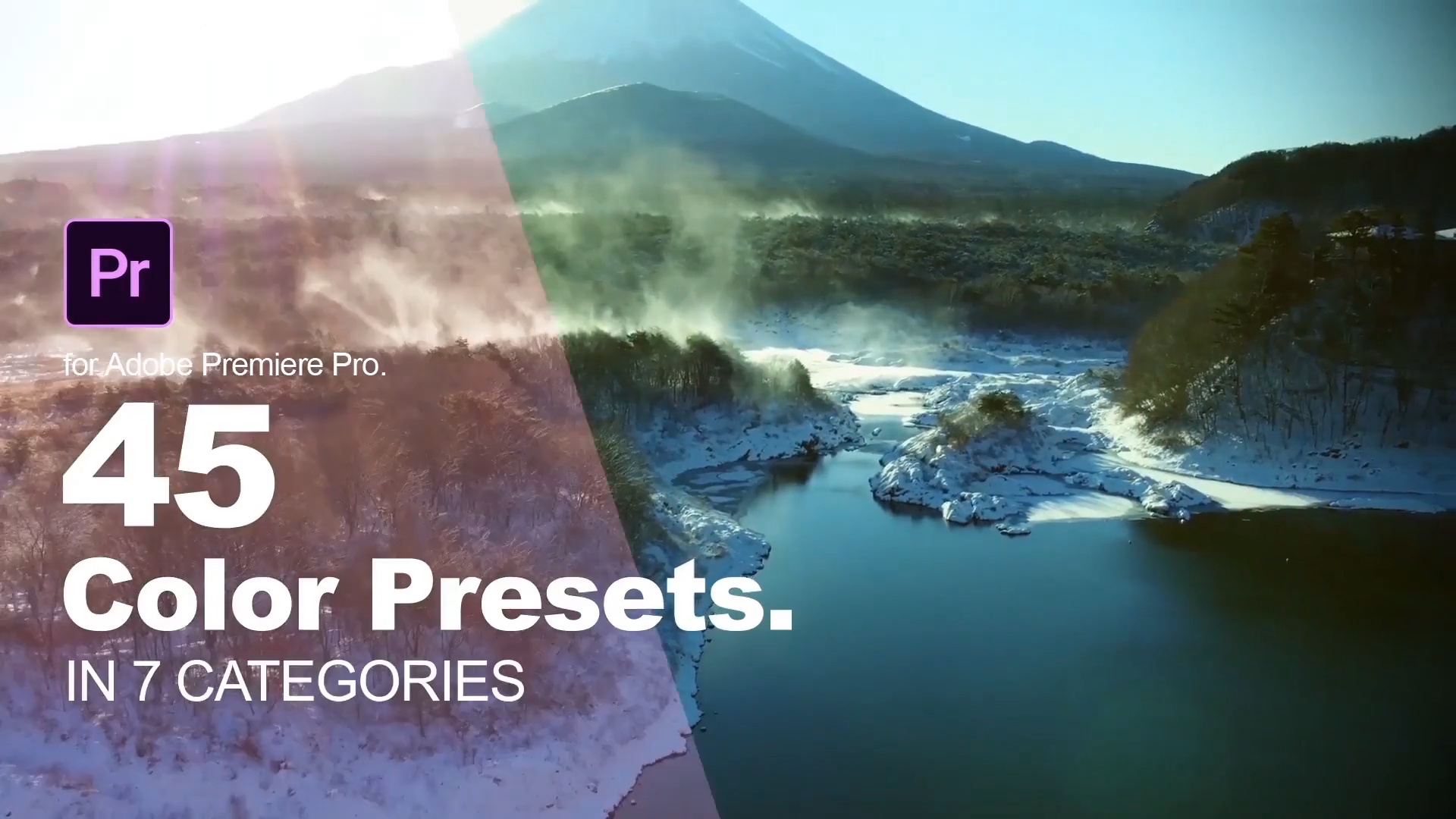 Wir lieben Premiere Pro-Voreinstellungspakete, die eine Vielzahl von Voreinstellungen enthalten. Mit diesem Universal Post-Production Pack können Sie in kürzester Zeit beeindruckende Videos erstellen, problemlos mit Premiere Pro Video schneiden oder etwas hinzufügen. Sehen Sie sich einige der besten Funktionen an:
100 universelle Farbvoreinstellungen
8 Schnelle Unschärfeübergänge
10 Lichtlecks (real und generiert)
4 Partikel-Filmmaterial
5 Altes Filmstilisierungsmaterial
3 Kratzer Texturen
Dieses Paket enthält über 800 Voreinstellungen, Premiere Pro Effekte und Elemente. Verwenden Sie mehrere Vorgaben, um unterschiedliche Ergebnisse zu erzielen und coole Premiere Pro Showreel Template zu erstellen.
Genießen Sie dynamische Premiere Pro Übergänge, Partikeleffekte und Soundeffekte mit dem Camera Transitions Presets Pack. Für den Fall, dass Sie nicht weiterkommen, ist ein detailliertes Videotutorial enthalten.
Instagrading für Premiere Pro ist eine von Instagram-Filtern inspirierte Sammlung von 50 Vorgaben, mit denen Sie verschiedene Stile der Farbkorrektur hinzufügen können, von filmischen Looks bis zu Vintage und mehr.
Genießen Sie die nächste Premiere Pro Effekte! Dieser Download enthält über 500 Voreinstellungen, mit denen Sie schnell und einfach Animationen zu Ihrem Premiere Pro-Projekt hinzufügen können. Dazu gehören: Offset, Spin, Glitch, Zoom und vieles mehr. Ziehen Sie sie einfach per Drag & Drop in Ihre Zeitleiste.
Wenn Sie Staub-, Rausch- und Lichtleckeffekte mögen, werden Sie dieses Preset-Paket lieben. Es enthält 30 Sekunden lange Clips, die geloopt werden können, sowie über 100 verwackelte Stop-Motion-Effekte für Videos, Bilder und Text.
Ziehen Sie Voreinstellungen per Drag-and-Drop auf Ihr Filmmaterial, um eine Vielzahl cooler Stile wie VHS, Cinematic, Farbverläufe und vieles mehr zu erhalten, wobei Sie aus über 50 Optionen wählen können.
Wissen Sie nicht, wie in Premiere Pro Video schneiden? Proxy Presets hilft Ihnen. Dieses Premiere Pro-Preset-Paket wurde erstellt, um Videoproduzenten bei der Bearbeitung zu helfen. Proxy-Vorgaben sind sehr nützlich für die Bearbeitung von Filmmaterial in jedem modernen Format von 2K, 4K bis 8K. Proxy-Vorgaben machen die Videobearbeitungs-Workflows nahtlos mit Ihren Medien.
Dieses Preset-Paket enthält über 200 Proxy-Presets für 10 Marken und 85 Kameras. Es funktioniert mit jeder FPS und jeder Auflösung.
Schauen Sie sich dieses Premiere Pro-Preset-Paket an, wenn Sie auf der Suche nach cineastischen Presets sind. Dieses Paket enthält hochwertige LUTS, die für Musikvideos, Spielfilme, Dokumentarfilme, Hochzeiten und allgemeine Videobearbeitungen verwendet werden können. Diese LUTS emulieren die Eigenschaften von hochwertigen Kinofilm-Looks. Es ist der einfachste Weg, um filmische Farbwerte zu erhalten.
Weitere Premiere Pro-Inspirationen und Video-Ressourcen von Envato
Mehr Möglichkeiten mit Adobe Premiere Pro
Wenn Sie Premiere Pro gerade erst kennenlernen, werden Sie zweifellos feststellen, wie gut sich damit großartige Videoprojekte erstellen lassen. Hier finden Sie einige Artikel, die Ihnen helfen, mit Premiere Pro weiterzukommen.
Lesen Sie unseren Video-Marketing-Leitfaden
Steigern Sie Ihre Fähigkeiten im Videomarketing mit unserem umfassenden Leitfaden: Hier lernen Sie Videomarketing von Anfang bis Ende.
Kostenloses Videomaterial von Mixkit herunterladen
Bei Mixkit finden Sie hochwertiges lizenzfreies Videomaterial, das Sie jederzeit und überall kostenlos verwenden können. Hier finden Sie Geschäftsvideos, Lifestyle-Videos, Naturvideos und vieles mehr.
Erstellen Sie ein Motion Graphics Video mit PlaceIt
Sie brauchen keine professionelle Software, um Videos zu erstellen, Sie können sie direkt in Ihrem Browser erstellen: Der Video Maker von PlaceIt nutzt professionell gestaltete Motion Graphics-Vorlagen, mit denen Sie in wenigen Minuten individuelle Videos erstellen können.
Want a weekly email summary?
Subscribe below and we'll send you a weekly email summary of all new Photo tutorials. Never miss out on learning about the next big thing.
Sign up
Photographer and writer based in north east England.
Marie Gardiner is a writer and photographer from the North East of England. After gaining her degree in Film and Media, Marie worked in the media industry, before leaving to set up the business she runs with her partner: Lonely Tower Film & Media. As well as writing about visual practices like photography and video, Marie is also the author of Sunderland Industrial Giant (The History Press, 2017), Secret Sunderland (Amberley Publishing 2019), and Celebrating Sunderland (Amberley Publishing 2023). Her photographic work focuses on landscapes and industrial ruins, particularly those of the North Pennines as she continues to work on her long-form documentary project Changing Landscapes.
Looking for something to help kick start your next project?
Envato Market
has a range of items for sale to help get you started.