Andrew Childress
En este artículo, verás plantillas Premiere gratis de historias de Instagram que te ayudarán a reducir gastos y a producir un vídeo verdaderamente profesional para tus historias de Instagram, incluyendo 45 plantillas Premiere gratis con gráficos animados.
Plantillas prémium para Premiere Pro (Plantillas para Instagram stories)
Gracia a Envato Elements, puedes mantener tus gastos bajo control y conseguir todas las mejores plantillas para Premiere Pro. Para los productores de vídeo, basta con que se suscriban para obtener miles de fotos, música, videoclips, fuentes, plantillas gráficas y cursos creativos detallados de Tuts+.
Estas son algunas de mis plantillas para Instagram stories favoritas para Adobe Premiere Pro disponibles para descargar en Envato Elements. Asegúrate de reproducir las previsualizaciones para encontrar la que mejor se adapte a ti.
Este elegante paquete de plantillas Instagram stories para Adobe Premiere Pro es bastante variado, con tres versiones que incluyen cinco, cuatro o tres historias. Puedes combinar fácilmente las animaciones de texto con gráficos y tus metrajes o fotos para producir vídeos para tus historias en poco tiempo. Estas plantillas para Instagram stories incluyen gráficos y animaciones 100% de Premiere Pro, por lo que no necesitarás usar After Effects.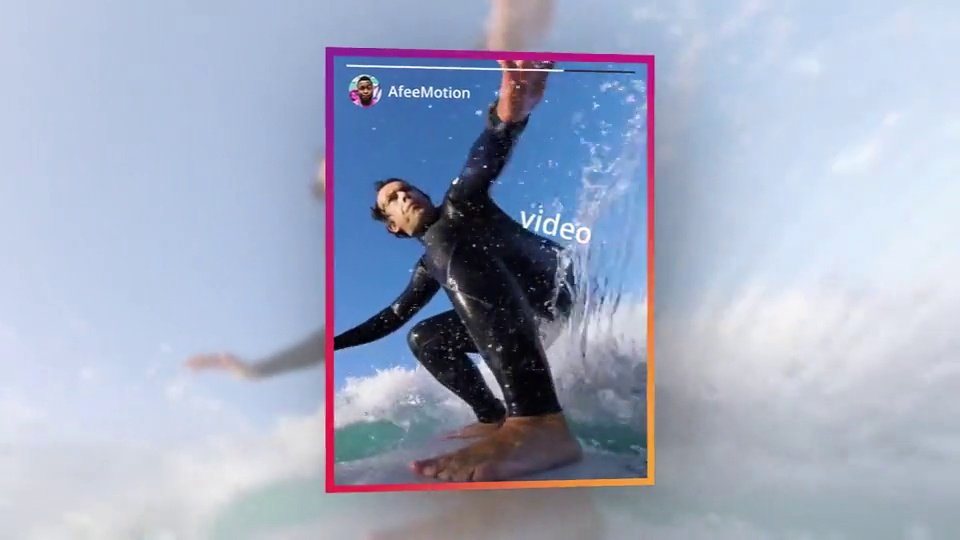 La actitud de esta plantilla no es nada sutil. Está diseñada para que tu audiencia no pueda simplemente pasarla por alto y pasar a la siguiente historia. Escribe sobre las animaciones de texto para añadir un poco de información sin la necesidad de crear una animación desde cero.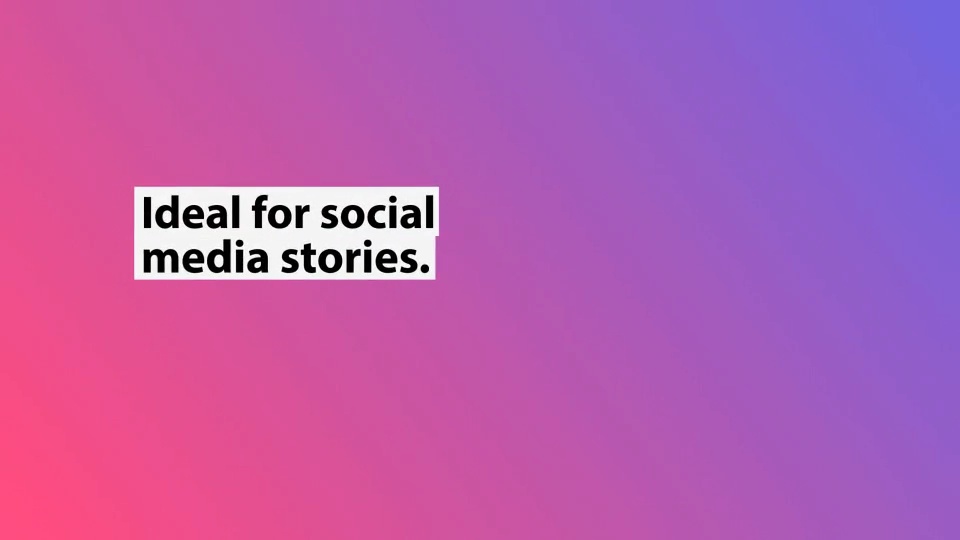 Estas plantillas Instagram stories, tan geniales como lo implica su nombre, son los suficientemente versátiles como para adaptarse a una variedad de propósitos. Se incluyen 22 estilos individuales con los que experimentar, e incluyen 10 opciones de "swipe" para ayudarte a redirigir a tu audiencia a una página en concreto.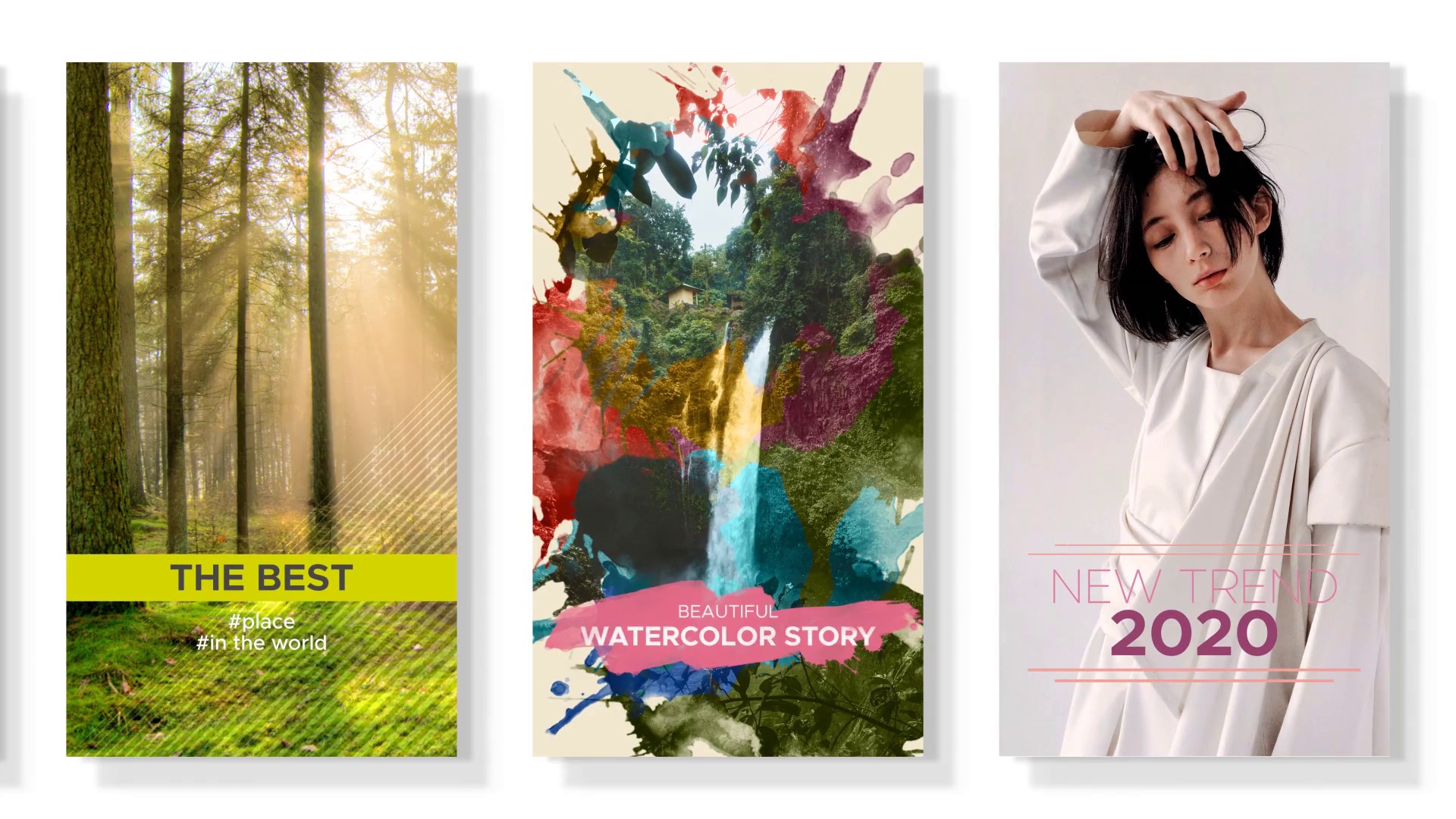 Las finanzas siempre están cambiando, y con la aparición de las operaciones bursátiles gratuitas, todo el mundo quiere formar parte de este apasionante mundo. Utiliza esta plantilla para explicar un concepto y promover tus ideas de inversión.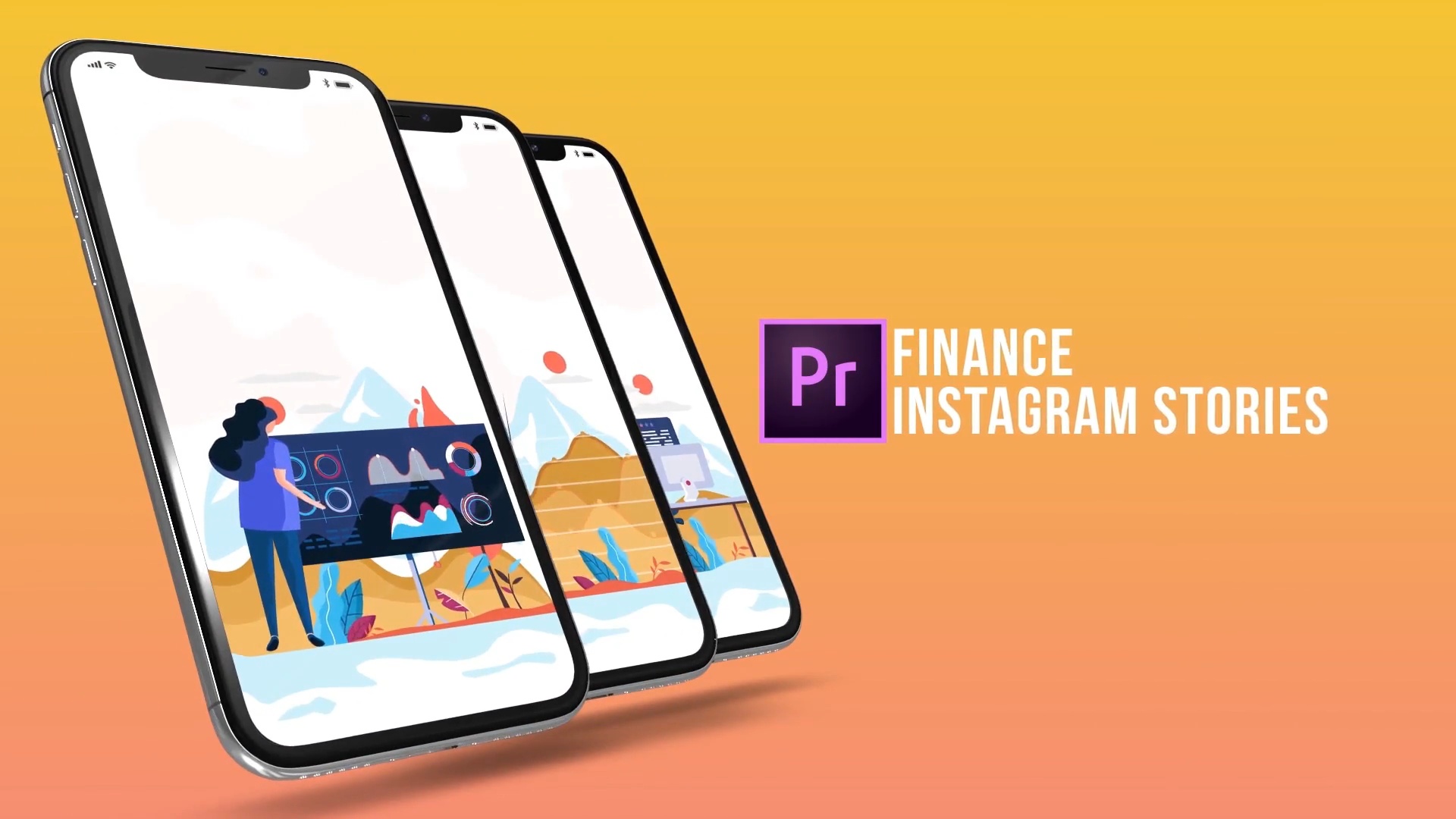 El mundo de los deportes tiene un gran número de seguidores en Instagram. No importa a qué liga o deporte desees promocionar, esta plantilla es una excelente manera de traer la emoción por los mejores atletas del mundo a tu próxima historia de Instagram.
45 plantillas Premiere gratis para historias de Instagram disponibles en Mixkit
Con la ayuda de MixKit, podrás encontrar plantillas Instagram stories para Premiere Pro totalmente gratuitas. Veamos 45 de las plantillas Premiere gratis de historias de Instagram que ofrece este sitio.
Las formas en movimiento son la principal característica en esta plantilla Premiere gratis de historia de Instagram que podrás personalizar muy fácilmente.
Ideal para cuentas de viajes, esta es otra de las plantillas para Instagram gratis (Premiere Pro) que es gratuita y presenta una agradable combinación de texto y espacio para tus visuales, como fotos y metrajes. Úsala para promocionar tu viaje y haz crecer tu audiencia.
Las mejores plantillas para Instagram gratis son aquellas con las que puedes trabajar fácilmente. Esta plantilla encaja con esta descripción, ya que te será sumamente fácil añadir estos "stickers" de ventas a tu contenido.
¡El nombre lo dice todo! Se trata de una animación de texto muy sencilla, que anima al usuario a hacer "swipe" hacia arriba para ver más historias.
El texto animado rápido ayuda al espectador a ir al grano. Enmarca tu contenido fácilmente con esta plantilla de historia de Instagram para Premiere Pro disponible de forma gratuita.
Extra, extra, ¡entérate de todo! El encabezado es el elemento central de esta plantilla, lo que la hace perfecta para un boletín informativo.
Las citas ciertamente nos inspiran. Utiliza esta plantilla de historia de Instagram gratuita para Premiere Pro para mostrar tu refrán favorito sin necesidad de ocupar el resto del espacio.
Aquí hay otra opción para un vídeo cuyo foco central sean las citas. Se usa una máscara simple que actúa como una mirilla hacia tu material situado detrás de la capa principal. Esta es otra de las plantillas para Instagram gratis para Premiere Pro que tiene aspecto bastante genial y es completamente gratuita.
Esta es una de las plantillas para Instagram gratis con bordes animados rodean tu texto, además de un texto sutil por detrás de este.
Resulta increíble la cantidad de interés que pueden tener las formas simples cuando están animadas. Utiliza esta plantilla para llamar la atención.
Una animación audaz y formas sencillas son la receta para esta plantilla Instagram gratuita con temática de marketing para Premiere Pro.
Esta es otra de las plantillas Premiere gratis que presenta una agradable combinación con un enfoque en el metraje (con una overlay de fotos) y texto.
No necesitarás abrir Photoshop para añadir un elemento de estilo vintage a tu historia de Instagram. Esta plantilla para Instagram gratis hace todo el trabajo, de manera que todo lo que necesitas es añadir fotos o videoclips.
Resulta perfecta para una promoción de estilo minimalista, un sencillo efecto de papel doblado no distraerá al público del texto que hayas elegido.
Produce vídeos promocionales rápidamente con esta plantilla de historias de Instagram gratuita para Premiere Pro. El texto animado se combina con el metraje para presentar tu oferta.
Aquí te presento otra increíble opción para llevar la atención hacia una cita que cause impacto. Presenta la suficiente cantidad de animación como para destacar.
Este banner con división diagonal deja espacio para una cita o, por ejemplo, puede ser incluso una forma de presentar tu próxima venta.
Aquí tenemos otra de las plantillas Instagram stories que combina bordes animados con texto para producir una historia de Instagram para Premiere Pro.
Esta plantilla de historia de Instagram para Premiere Pro ofrece bastante espacio para añadir tu metraje de vídeo. Usa el espacio de texto disponible para añadir información o una promoción.
Esta plantilla te ofrece un gran número de cuadros de texto para mostrar los detalles de tu próxima venta o promoción.
Utiliza tu encabezado con esta intro de vídeo animada para conseguir una historia de Instagram de apariencia profesional.
El efecto de overlay es sutil, lo que contribuirá a que tu audiencia no se distraiga del metraje que tanto te costó capturar.
Algunas plantillas Instagram stories fueron creadas para destacar. Usa esta llamativa opción que incluye una función de swipe.
Esta plantilla de historia de Instagram para Premiere Pro presenta un buen uso del espacio con el fin de facilitar la lectura. Combina algo de texto con un clip corto para crear una estupenda historia.
Estas son modernas formas con efecto de líquido que no pasarán desapercibidas. Utilízalas para una promoción contundente.
Utiliza los cuadros de texto verticales y las sencillas capas para tu campaña de marketing.
Esta es una de las plantillas para Instagram gratis para Premiere Pro te ofrece tres líneas de encabezado para incluir detalles y un anuncio de venta.
La simplicidad es lo principal aquí. Usa el siempre popular efecto de degradado para evitar que tus espectadores pasen al siguiente clip.
Aquí hay otra plantilla basada en figuras para tu siguiente presentación de marketing. Utiliza el botón para crear una llamada a la acción.
Es conveniente utilizar diseños que generen contraste para poder diferenciarte del resto de las historias en las líneas de tiempo de tus usuarios. Este es un efecto oscuro y cambiante, perfecto para el propósito que persigues.
Si deseas que una cita sea el foco principal de tu historia, entonces esta es la plantilla perfecta para ti. Los controles de color de este tipo de plantillas para Instagram stories hacen que sea fácil adaptarla a tu marca.
Esta plantilla de historia de Instagram gratuita para Premiere Pro es un gran ejemplo de que "menos es más".
Esta plantilla ayuda a que tu producto sea el elemento principal. Funciona muy bien con la imagen de un producto o una capa de fondo transparente.
Necesitarás una iniciativa de marketing bien enfocada para que tu evento tenga éxito. Esta es la plantilla para Instagram stories adecuada para la ocasión.
Esta plantilla da la sensación de estar pintada a mano, pero es completamente personalizable. Solo escribe sobre el marcador de posición para conseguir un estilo de boceto.
Este genial efecto utiliza un marco de fotos y efectos de filtro para llamar la atención del público.
Utiliza esta sencilla plantilla con un cuadro de texto que tiene un efecto de salpicadura de tinta.
Quizás el objetivo de tu campaña de marketing es ofrecer un precio de infarto. Muestra esos descuentos con esta plantilla de historia de Instagram gratuita para Premiere Pro.
Pon tu cita en movimiento con esta plantilla de texto giratoria.
Verdaderamente existe una plantilla para todo. Es imposible simplemente pasar por alto este florido efecto de distorsión.
Con la ayuda de esta plantilla de historia de Instagram para Adobe Premiere tu texto caerá justo en las pantallas de los espectadores.
Esta plantilla de historia de Instagram para Premiere Pro es gratuita y se centra en destacar el texto. Es verdaderamente la opción perfecta para promocionar un evento con un mensaje directo.
Aquí tienes otra increíble opción para presentar una cita inspiradora con solo unos cuantos clics.
Si tu campaña de marketing está enfocada en los hashtags, entonces esta es la plantilla perfecta para ti. Utiliza este vídeo para motivar a tu audiencia a compartir tus hashtags.
Finalizando con nuestra selección, te presento este encabezado animado que puedes usar para promocionar productos y ofertas excepcionales.
Más recursos de vídeo de Envato
Aquí te presento más increíbles recursos de Envato que te ayudarán a producir mejores proyectos de vídeo en poco tiempo.
Crea un sitio de Instagram de una sola página con Milkshake
Instagram te proporciona un link en tu biografía, ¡no lo desperdicies! Crea un increíble sitio web de Instagram usando Milkshake en tu celular, sin necesidad de tener conocimientos informáticos o de diseño.
Lee nuestra guía de vídeo marketing
Hemos recopilado una guía completa que te ayudará a convertirte en un vídeo marketero profesional. Descubrirás todos los consejos y trucos que usan los profesionales por lo que, ya seas un principiante o un profesional, seguramente podrás adquirir habilidades que tu permitirán hacer marketing de una manera más efectiva.
Descarga metrajes gratuitos de vídeo en Mixkit
En Mixkit, puedes conseguir metrajes de vídeo de stock libres de regalías que puedes usar sin compromiso. Es una excelente manera de mantener tu presupuesto bajo control mientras produces tu vídeo. Visita la biblioteca y consigue vídeos para tu siguiente campaña de marketing.
Produce un vídeo con gráficos animados en Placeit
Supongamos que no quieres trabajar con Adobe Premiere Pro en lo absoluto. Si ese es el caso, entonces vas a amar Placeit, un generador de vídeos online. Podrás elegir tus propios gráficos, metrajes y textos, y producir vídeos listos para compartir al momento.
Envato Elements: descargas ilimitadas
Envato Elements te brinda millones de artículos de stock: fotos, música, videoclips, fuentes, plantillas de proyectos de vídeo para After Effects, Premiere Pro, Final Cut Pro y Motion, además de cursos creativos de Envato Tuts+. Todo esto incluido en una sola suscripción. Podrás descargar todos los recursos que necesites por un único y módico precio mensual.
Más recursos de Envato para ayudarte a hacer marketing por Instagram
Echémosle un vistazo a aún más plantillas para Instagram stories que puedes usar para vender productos a tu audiencia.
Marie Gardiner

Vídeo

Las 15 mejores plantillas After Effects para producir vídeos de marketing de Instagram para negocios locales

Andrew Childress

Instagram

Las 15 mejores plantillas Instagram stories (vídeo vertical) para After Effects

Marie Gardiner
Want a weekly email summary?
Subscribe below and we'll send you a weekly email summary of all new Photo & Video tutorials. Never miss out on learning about the next big thing.
Sign up
I believe that life is too short to do just one thing. In college, I studied Accounting and Finance but continue to scratch my creative itch with my work for Envato Tuts+ and other clients. By day, I enjoy my career in corporate finance, using data and analysis to make decisions. I cover a variety of topics for Tuts+, including photo editing software like Adobe Lightroom, PowerPoint, Keynote, and more. What I enjoy most is teaching people to use software to solve everyday problems, excel in their career, and complete work efficiently. Feel free to reach out to me on my website.
One subscription. Unlimited Downloads.