Marie Gardiner
Bu eğitimde, görüntüleri, bilgileri hakkında temel meta—bilgi eklemek için nasıl bakacağız. Fotoğrafın içeriği hakkında ek bilgi küçük bit ve anlam kullanışlı ve düzgün bir şekilde organize fotoğraf arşivi içine eski fotoğrafları örgütsüz yığın açar fotoğrafları yapıyorsanız meta verileri eklemek için önemlidir.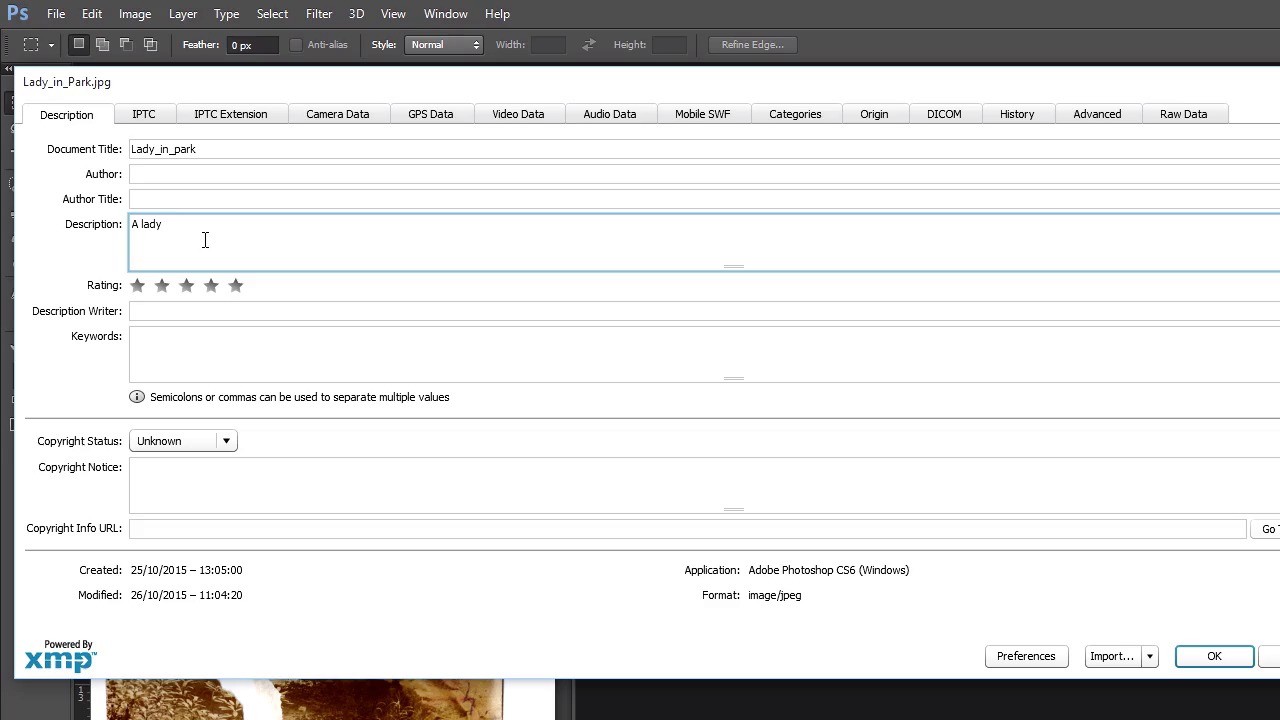 Meta olması, kolayca arama ve arşiv büyüdükçe resimlerini bulmak anlamına gelir. Daha sonra ihtiyacınız resimler içinde saklaması ve onlar hakkında hafıza tazelemek olabilir anlamına gelir.

Eski fotoğraflar ile çalışmak, çoğu zaman bir dedektif olmak gibi bir şey. Örneğin, bir fotoğraf var, ama bu takımın parçası olan başka bir fotoğrafı bulmak istiyorum.  Eksik bir şey—bazen çok değil, söz konusu fotoğraf hakkında bildiklerini ve o zaman ancak potansiyel olarak bulunabilir. Hadi eksik bilgi ile başlayın.
Eksik Bilgi
 Bir önceki derste, bir fotoğrafın arkasında yazı bahsettim. Birçok eski baskılar onlara yazılı bilgi var ve eğer bu resim hakkında bir şey bilmiyorsanız bilgi aramaya başlamak için ilk yerdir.
 Sonraki, bir yeri ya da bir kişiyi teşhis edebilir misiniz? Eğer görüntü ne kadar memleketim olan Sunderland, bunu anlayamıyorsanız, o zaman yerel tarih grubu soru sormak gibi bir seçenek, Sunderland Antiquarians belki dokunmatik yerel gazete, fotoğraf hakkında daha fazla bilgi vermek için almak gibi ya da verecek.
 Sosyal medya daha geniş bir kitleye bir şeyler almak için, ve belki de boşlukları doldurmak için yardım edebilecek birini bulmak için harika bir yoldur.
"Tarih Victoria, Edwardian ve ötesinde olduğunu düşündüm. Değil, ve insan istemek ne geçmişi şimdi çocuk olarak hatırlıyorlar.  Şimdi insanlar diyoruz, bize eski fotoğraflar verebilir bu 60'lar, 70'ler ve hayati derecede önemlidir. Ve bir kez yakaladık onları gelecek nesiller için onları dijital ortama edemeyiz.' —Norman Kirtlan, Sunderland Antikacı Toplum
Meta veri eklemek ne
Bir kez veri eklemeye başlayabilirsiniz fotoğraf hakkında bazı bilgiler var. Bir fotoğrafı kolayca oldukça kısa tutmaya çalışın tanımlanabilir ve yapan bir başlıkla başlar.  Resimlerinizi bir başlık vermeye başladığınızda, yapısı ve tarzı ile tutarlı olmalıdır. Bu yüzden, örneğin, yer ve diğer bilgileri sunderland_mulberrypark gibi başlayın.
 Burada Katalog numarası ekleme, eğer görüntüleri büyük miktarda ile başa çıkmak için gidiyoruz düşünün.
 Bir sonraki en uygun fotoğraf bir açıklama: Bir resim yazısı geliyor. Resimde fotoğrafçı gibi şeyler, bilinen yer, ve herhangi bir kişi vardır. Bundan sonra, anahtar kelimeler ekleyin.
 Burada hile fotoğrafta içeriğini tanımlamak için, aynı zamanda ilgili ve özel tutmak açısından kullanmaktır. Eğer görüntü insanlarla dolu bir park ve arka planda neredeyse oradaki bir köpek, sonra da "köpek" ile resim etiketleme muhtemelen en yapıcı fikir değil.
 Başlıca özellikleri, koşulları ne ve diğer ilgili bilgi nerede mevcut olan görüntünün ne olduğunu düşün.
 Ayrıca görüntü Çevrimiçi Paylaşım hakkında youŕe düşünme eğer bir telif hakkı vardır.
Bir Fotoğraf için Meta verileri Ekleme

 Çoğu fotoğraf düzenleme suit okumak ve farklı yazılım tarafından ele alınması mümkün olacak bir şekilde veri kabul etmeni sağlayacaktır. Photoshop, Dosya ' yı tıklatın ve sonra veri girişi için Bilgi Dosyası.
 Eğer damla aşağı düğmesine altına bakarsanız verme seçeneği göreceksiniz. Bunu yaparsanız ve dosyayı kaydedin eğer büyük bir veri eklerseniz çok yararlı olan gelecek görüntüler için bir şablon olacak.
Adobe Bridge eğer görüntüleri büyük bir birim kataloglama başka bir büyük zaman tasarrufu olan parti, meta veri eklemek için  izin verecektir. Meta verileri dosya boyutu daha büyük yapar ama sadece marjinal ve organize bir katalog sahibi olmanın avantajları için çok değerli.
 Görüntü bilgiler genellikle yer yer dijital görüntü aktarımı yoluyla kaybolur, bu yüzden dosya bir parçası birisi kasıtlı siler sürece her zaman klasörle olduğu anlamına gelecektir kendisi gömülü meta sahip olur.
Want a weekly email summary?
Subscribe below and we'll send you a weekly email summary of all new Photo & Video tutorials. Never miss out on learning about the next big thing.
Sign up
Photographer and writer based in north east England.
Marie Gardiner is a writer and photographer from the North East of England. After gaining her degree in Film and Media, Marie worked in the media industry, before leaving to set up the business she runs with her partner: Lonely Tower Film & Media. As well as writing about visual practices like photography and video, Marie is also the author of Sunderland Industrial Giant (The History Press, 2017) and Secret Sunderland (Amberley Publishing 2019). Her photographic work focuses on landscapes and industrial ruins, particularly those of the North Pennines as she continues to work on her long-form documentary project Changing Landscapes.
Scroll to top
Start your 7-day free trial*
*All Individual plans include a 7-day free trial for new customers; then chosen plan price applies. Cancel any time.