Read Time:
7 mins
Languages:
The long shadow effect can bring a bit of drama and on-trend style to the creative visuals in your video. With logos and graphics especially, applying a sizable shadow can really set off the look.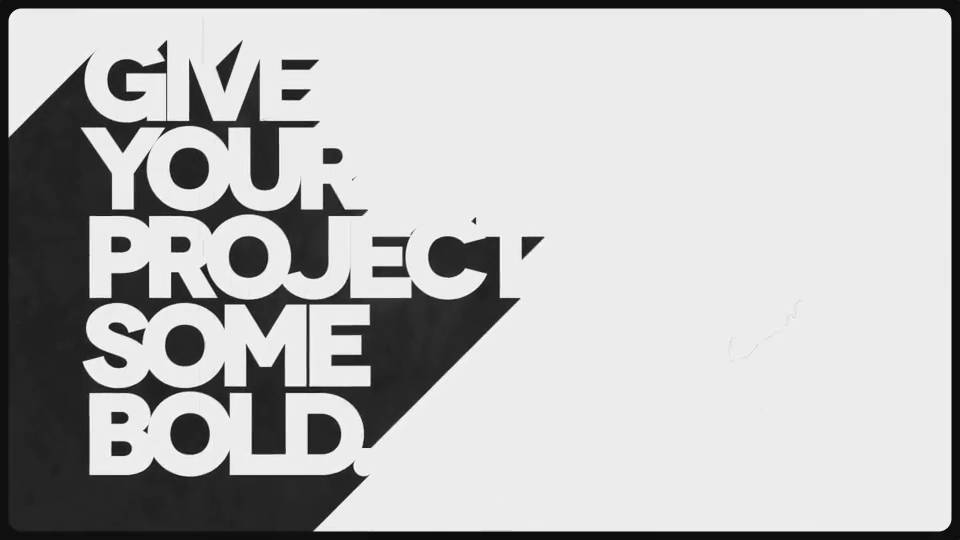 In this tutorial, I share 15 long shadow templates that you can purchase on Envato Market to use in your own Adobe After Effects projects. Instead of learning an animation app from start to finish, use these pre-built assets instead—with your own text and logos. Even if you've never used video editing software, these templates make it easy to get started.
Now, let's take a look at 15 of my favorite picks for creating this look in Adobe After Effects:
This is one of my favorite selections in this round-up because it's just so customizable. Not only can you change the direction of the effect, but you can also vary how long the shadow is to really amp up the effect. You can even apply a gradient effect to add color to your shadows.
Ideal for: stylized text effects with a dramatic drop shadow.

Typography is really all that you need to create an engaging video. This After Effects project combines typographic animation with a slick long shadow effect. You'll also be able to apply a slick parallax effect for smooth transitions between scenes.

Ideal for: typographic focused videos featuring flat color effects.
A number of projects in this round-up feature long shadow effects, but I like this choice for its animations and quick cuts between scenes. This project is really the perfect way to set the tone for a video. Use it as a high energy intro with long shadow text.
Ideal for: a text-centric video that needs a bit of flash to catch the viewer's eye.
If you have a healthy library of images or video footage, this project is a great way to add long shadow text overlays. This After Effects long shadow effect creates a look that's almost like a double exposure with text sharing the stage with your images and video.
Ideal for: creating a photo slideshow, complemented by the long shadow effect with overlays.
So far, we've been focused on adding long shadows to text. But this project helps you break that mold by combining a deep library of graphics with long shadow effects. Use these for an illustrated video with the signature long shadow style.

Ideal for: building a graphical video without the budget of hiring an animator.
Many videos will use a logo opener to set the tone with strong branding. This project is an easy way to combine a logo showcase with a long shadow effect. just add your logo into the placeholder and watch it animated with a long shadow effect.
Ideal for: animating a logo with a long shadow effect.
This project is ideal for a typographic long shadow effect, and it also adds the animation effects that can make it engaging. Combine kinetic animations with long shadow typography to create a simple but eye-catching video.

Ideal for: creating another affordable, typographic video montage.
Infographics tell stories with data. You can use an infographic to take your statistics and numeric values and showcase them in a way that's more engaging than spreadsheets and tables. Use this project to create infographics with visually appealing long shadow effects.
Ideal for: showing off statistics using the long shadow effect.
Explainer videos can help a viewer relate to an unfamiliar concept. With this project, you can create an explainer with an illustrative hand animation and the long shadow effect for a bit of style.

Ideal for: a unique explainer video that features animated graphics.
Here's another option for combining logo animations with a long shadow. Just add your logo, steer the lighting, and watch it animated with a deep shadow effect. The advantage of this project is that it also adds a bit of dynamic lighting to really animate the logo to life.
Ideal for: adding your logo with a shadow effect.
Stage your trivia night thanks to this After Effects projects. Queue up tricky questions and try out the various styles to stump your audience. As a bonus, it includes a deep long shadow effect to create questions that are as visually appealing as it gets.
Ideal for: creating an attractive video for your next big trivia night!
Less truly can be more. With a minimal long shadow effect, a viewer is more likely to focus on the content than the effects of the video. This project takes no time to drop in your own text and shapes and animate it with a long shadow. 
Ideal for: an inexpensive and minimalist approach to the long shadow effect.
Here's another option for telling stories with data. There are 17 different visuals that help you bring data to life, all of which include a long shadow that highlights the datapoints.
Ideal for: illustrating your data with a flat effect in After Effects.
Thunder is an animated template perfect for a really sharp lyric video, for example. This long shadow effect really makes the text pop off the canvas and stand out. 
Ideal for: a highly stylized text animation that grabs the viewer's attention right away.
Broadcast packages include elements that help you prepare your video footage for an on-air feel. Even if your channel is just on YouTube, a broadcast package with overlays and titles can turn your professionalism up a notch. This package combines broadcast elements with long shadow styles.
Ideal for: a television quality broadcast package featuring the long shadow effect.
How to Use These After Effects Templates

Here's how to these files to create your own long shadow video in After Effects:
1. Use the Instructions
One of the best things about projects from VideoHive is that the files usually include high-quality instructions. The template I'm using in this example, Broadcast Long Shadow Package, includes a short screencast that shows how to use the project file.
2. Open in After Effects
You'll need Adobe After Effects to use the projects in this tutorial. Basically, the files below are pre-built projects that you can use with your own assets. You use these files as a starting point to skip learning the entire app.
Once you've purchased an After Effects project, double click to open it up. These projects will work in After Effects on Mac or Windows.
3. Customize the File
For each of these files, the project is just a starting point. After you open it, you have the ability to customize most elements of it for your own purposes.
For the example above, I simply double clicked on the text in the screenshot to change it. After Effects opened up the layer that includes the text in the screenshot above. Then, I can simply type over the placeholder text and replace it with my own.
Continue to make changes to the file until you've customized it to your liking. Remember, each After Effects project will be different and it's worth checking the instructions to find the specifics for how to customize it.
4. Export the Finished File
Once you've customized the project with your own assets, you can export from After Effects. Go to the File > Export menu and choose one of the options to send your finished video to another editor.
Recap and More Learning Resources

In this roundup, you've seen some of my favorite VideoHive assets to create a shadowed effect. If you want to learn more about using pre-built assets to do animation, check out the roundups below:
Any questions about how to use these files? Let me know in the comments section below.
Weekly email summary
Subscribe below and we'll send you a weekly email summary of all new Photo & Video tutorials. Never miss out on learning about the next big thing.
Update me weekly
Translations
Envato Tuts+ tutorials are translated into other languages by our community members—you can be involved too!
Translate this post
Powered by
Looking for something to help kick start your next project?
Envato Market
has a range of items for sale to help get you started.