Marie Gardiner
Que te hablen de algo en un texto publicitario no es lo mismo que verlo en acción, por lo que saber cómo promocionar un producto con un vídeo impactante es fundamental.
Cuando queremos comprar algo, muchos de nosotros recurrimos a Internet en busca de reseñas, información general y, cada vez más, contenido en vídeo. En este tutorial, profundizaremos en cómo promocionar un producto con un vídeo promo o promocional.
1.

¿Realmente necesitas hacer un vídeo promocional?

Los vídeos promo suelen llevar mucho tiempo y pueden ser costosos de producir, pero hay algunas situaciones en las que los vídeos de marketing de productos cobran importancia. Veamos algunos ejemplos para empezar.
Para mostrar cómo se usa el producto
Esto puede servir para la mayoría de los productos, pero es especialmente importante si tienes un producto complicado, que hace algo nuevo o que se basa en una cualidad particular. Un producto de limpieza, por ejemplo, que se muestra para eliminar la suciedad más resistente. Puedes añadir personalidad y mensajes de marca a este tipo de vídeo; échale un vistazo al vídeo de la hoguera Solo Stove Bonfire para aprender cómo hacerlo. Un excelente ejemplo de cómo hacer un vídeo promocional. Sí, es una lata de metal, pero es una lujosa lata que condensa los vapores en una llama más concentrada, reduciendo radicalmente las necesidades de combustible para cocinar y eliminando los subproductos nocivos de la combustión.
Para profundizar en los detalles
Algunos de tus clientes querrán conocerte a fondo, saber cómo se fabrican tus productos o cómo funcionan realmente. Hacer un vídeo promocional es una forma estupenda de presentar dicha información. Habla de las novedades del sector u ofrece "información de primera mano" mientras muestras tu producto. Este vídeo de Nike es un excelente ejemplo de crear un spot publicitario en vídeo:
Testimonios
Los testimonios son una manera de establecer una conexión, así que ¿por qué no mostrar tu producto al mismo tiempo con algunos testimonios en tu vídeo promo? Échale un vistazo al vídeo de testimonios de Slack:
Para añadir personalidad
Utiliza vídeos llenos de personalidad para crear confianza y reputación en torno a tu marca, a la vez que utilizas la plataforma para exhibir un producto. Un magnífico ejemplo de crear un spot publicitario en vídeo para reforzar tu marca es la serie de vídeos "Will it Blend" de Blendtec:
2.

Establece tu intención para cada vídeo promo

No es recomendable empezar a hacer un vídeo promocional sin un plan. Aquí tienes 5 consejos que te ayudarán a establecer las expectativas de tu vídeo, antes de que empieces con tu proceso para crear un spot publicitario en vídeo.
Plataformas de vídeo: consigue el equilibrio adecuado
Tu objetivo es lograr una representación fiel de tu producto, y al mismo tiempo no perder la atención de tu público haciéndolo demasiado largo. Los diferentes canales y audiencias también tendrán diferentes expectativas en cuanto a tus vídeos. Ten en cuenta que es posible que tengas que crear varias versiones de tu vídeo si pretendes publicarlo en tus redes sociales.
Ten un propósito definido para tu vídeo
Si tu vídeo se limita a mostrar tu producto, es posible que no llame mucho la atención. No es necesario que sea complicado, pero procura que tu vídeo tenga un motivo más allá de una simple propaganda: que sea estimulante o inspirador, que transmita conocimientos, etc. Traslada esta idea al estilo del vídeo o a la plantilla de vídeo After Effects que elijas. Por ejemplo, si vendes zapatillas de correr para atletas, probablemente querrás que tu vídeo sea dinámico y optimista.
Conoce a tu público y dónde se encuentra
En un mundo ideal, la respuesta a "quién debería comprar tu producto" podría ser "todo el mundo", pero si te diriges a todo el mundo, lo más probable es que no llegues a nadie. Conoce a las personas que forman parte de tu público objetivo y diseña tu mensaje de manera que les llegue. También tienes que saber en qué medio van a consumir tu contenido: no tiene sentido llenar Instagram con historias si tus espectadores están viendo transmisiones en directo en YouTube.
Utiliza un diseño de alta calidad desde el principio
Tu producto puede ser de clase mundial, pero si tu vídeo es de mala calidad, la gente podría asumir que tu producto también lo es. Lo ideal es contratar a un diseñador profesional o a un productor de cine, sin embargo, si tu presupuesto no te permite hacerlo, puedes producir algo de muy buena calidad utilizando plantillas de vídeo editables diseñadas por profesionales. A continuación, veremos algunas de ellas.
Empieza con un guión gráfico
La mejor manera de ahorrar tiempo y dinero en tus proyectos de vídeo es determinar tu objetivo desde el principio. Un guión gráfico es una herramienta divertida, gratuita y eficaz para planificar tu vídeo antes de que agarres la cámara.
3.

Cómo hacer un vídeo promocional de productos en After Effects

Utilizar algunas plantillas de vídeo After Effects prediseñadas para mostrar tus productos es una opción sensata si no te sientes preparado para crear algo desde cero por ti mismo, y no estás en posición de poder contratar a alguien. Las plantillas After Effects han sido creadas por gente que sabe lo que hace, por lo que tienen un aspecto estupendo, suelen ser fáciles de usar y, lo mejor de todo, puedes personalizarlas para que se adapten a tu marca.

Aquí tienes algunos ejemplos de plantillas After Effects de alta calidad. Las plantillas de vídeo editables 1 y la 2 son de Envato Elements, un sitio donde podrás descargar y utilizar todos los recursos que desees mediante una suscripción mensual. Si prefieres una opción de "pago por uso", te tenemos cubierto, la plantilla de vídeo editable 3 es de Envato Market, donde puedes comprar plantillas After Effects y otros recursos de forma individual.

PAQUETE de vídeos promocionales con mockups de productos es una plantilla After Effects de estructura modular que puedes usar para promocionar libros, software, DVDs y mucho más. Utiliza los tres cortes pre editados o crea los tuyos propios con los más de 11 diferentes módulos. Esta plantilla de vídeo editable es completamente personalizable para que puedas crear un spot publicitario en vídeo fiel a tu marca.
Las presentaciones de diapositivas son un favorito de eficacia probada, y esta plantilla After Effects de Envato Elements es colorida, moderna y apta para una gran variedad de productos. También hay mucho espacio para los títulos y los textos explicativos, en caso de que tengas un producto que sea un poco más complicado de presentar.
Este es un excelente paquete si quieres presentar un producto en una serie de dispositivos populares, como un reloj inteligente, una tableta o un teléfono inteligente: se incluyen 17 modelos en 3D diferentes, que se actualizan constantemente para mantenerte al día. Como los modelos no están pre renderizados, podrás personalizarlos fácilmente para que todo se vea bien en tu producto.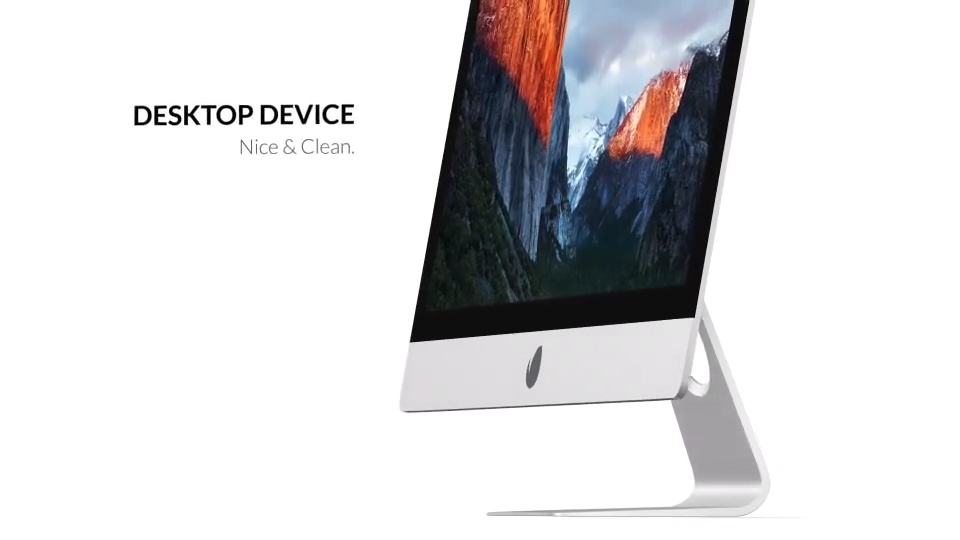 4.

Preguntas frecuentes sobre los vídeos promocionales de productos (FAQ)

¿Todavía tienes algunas dudas sobre los vídeos promocionales de productos? No te preocupes, tenemos todo cubierto. Vamos a profundizar en algunas preguntas frecuentes que puede tener antes de empezar el proceso para crear un spot publicitario en vídeo.
¿Qué es un catálogo en vídeo?
Un catálogo en vídeo es una forma única de compartir información sobre tu negocio, productos o servicios. El concepto es básico, pero puede adoptar muchas formas. Puedes utilizarlo para hablar de nuevas características, de capacitaciones internas y mucho más. Consulta este artículo para aprender aún más:
¿Qué deben incluir mis vídeos de testimonios de clientes?
Conseguir un vídeo de testimonios de clientes puede darle algo más de credibilidad a tu producto. Sin embargo, hay algunos aspectos básicos que debes tratar de incluir en tu vídeo. Siempre debes explicar cómo funciona tu producto, cómo soluciona los problemas y por qué es único.
Por supuesto, existen muchos otros tips que debes conocer para tener los mejores testimonios de clientes. Puedes encontrar más consejos en esta guía:
¿Cómo hacer un vídeo para la página de atención al cliente?
Lo más importante que debes recordar al hacer vídeos de atención al cliente es que tú eres el experto. Lo sabes todo sobre el producto. Los mejores vídeos para páginas de soporte explican esta información en pasos fáciles de entender. Además, ayudarán a solucionar los posibles problemas que puedan experimentar los clientes.
Para conocer más a fondo los vídeos de atención al cliente, lee más aquí:
¿Debería utilizar una plantilla de vídeo After Effects para promocionar un producto?
La respuesta a esto puede ser sí, pero depende de lo que encuentres. Una plantilla de vídeo editable premium es una excelente manera de ahorrar mucho tiempo sin sacrificar la calidad. Sin embargo, solo deberías utilizar una plantilla de vídeo After Effects prediseñada para promocionar productos si encuentras una que se corresponda con tu marca y tu mensaje.
Por suerte, hay muchas opciones para explorar cuando se trata de elegir una plantilla de vídeo After Effects. Puedes visitar Envato Elements o VideoHive para ver sus selecciones. O bien, puedes consultar algunos de estos artículos:
Cómo Hacer un Video con 10 Plantillas Placeit para Descripción de Producto

Marie Gardiner

18 Jan 2021
Más recursos para promocionar un producto
Aquí tienes unos cuantos tutoriales y resúmenes de productos para que sigas aprendiendo y produciendo excelentes vídeos.
Más recursos de producción de vídeo de Envato
Si necesitas hacer vídeos promocionales con regularidad o trabajas en el campo del vídeo marketing, querrás echarle un vistazo a estos recursos exclusivos de Envato.
Potencia tu vídeo marketing con la guía de Envato
Potencia tus habilidades de vídeo marketing con nuestra guía completa. Aprenderás sobre vídeo marketing de principio a fin, de modo que, ya seas un principiante o un profesional, puedas adquirir algunas habilidades útiles que te ayuden a mejorar tu próximo vídeo.
Descarga vídeos, música y plantillas gratuitas de Mixkit
Visita Mixkit para conseguir vídeos de stock gratuitos, música de stock gratuita y plantillas gratuitas para Adobe Premiere Pro.
Produce vídeos con gráficos animados en línea con Placeit
Placeit es un generador de vídeos en línea que utiliza plantillas con gráficos animados diseñados por profesionales.
Envato Elements: descargas ilimitadas
Want a weekly email summary?
Subscribe below and we'll send you a weekly email summary of all new Photo & Video tutorials. Never miss out on learning about the next big thing.
Sign up
Photographer and writer based in north east England.
Marie Gardiner is a writer and photographer from the North East of England. After gaining her degree in Film and Media, Marie worked in the media industry, before leaving to set up the business she runs with her partner: Lonely Tower Film & Media. As well as writing about visual practices like photography and video, Marie is also the author of Sunderland Industrial Giant (The History Press, 2017), Secret Sunderland (Amberley Publishing 2019), and Celebrating Sunderland (Amberley Publishing 2023). Her photographic work focuses on landscapes and industrial ruins, particularly those of the North Pennines as she continues to work on her long-form documentary project Changing Landscapes.
Start your 7-day free trial*
*All Individual plans include a 7-day free trial for new customers; then chosen plan price applies. Cancel any time.